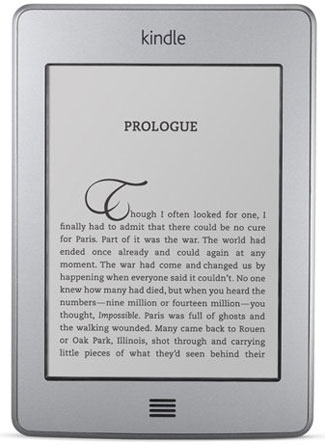 This Kindle Touch review is an outline of the new touchscreen Kindles' features.
Since the Kindle Touch won't be released until November 21st, this quick review is based on information from Amazon's press conference and the Kindle Touch and Kindle Touch 3G product details pages. Check back in November for the full detailed review, or subscribe to keep updated on all ereader reviews and news.
The Kindle Touch is one of three new devices from Amazon. There's also a basic non-touchscreen Kindle that starts at $79. Then there's the Kindle Fire Tablet for $199. And the Kindle 3, now known as the Kindle Keyboard, is going to continue to be available for those that find the keyboard useful.
Four Variations
The Special Offers Kindles are cheaper because they display ads and coupon deals on the screensavers when the Kindle is asleep and at the bottom of the list of books on the homescreen. The vast majority of people find the ads to be unintrusive. A lot of people get the Special Offers Kindles for the exclusive coupon deals, which are generally pretty good if you do a lot of shopping at Amazon. They are starting to roll out local coupon deals too in some areas.
Kindle Touch – Touchscreen
Surprisingly, Amazon is the last major ereader company to launch a touchscreen ebook reader. The Kindle Touch has a 6-inch E Ink Pearl screen and uses infrared for the touchscreen just like Nook, Sony, and Kobo. That's good news because infrared touchscreens have already proven to be ideal for ebook readers: They work great and don't degrade the quality of the screen at all, and fingerprints aren't a problem either.
My main concern with the touchscreen is this: Amazon has thousands of apps for the Kindle—games, calendars, notepads, etc—and they were all created for the non-touchscreen Kindles and are dependent on the 5-way controller and physical buttons for operation. How does Amazon intend to make these work on a touchscreen Kindle? Are they going start segregating the apps for non-touch and touchscreen Kindles?
Kindle Touch Specs
6″ E Ink Pearl screen
Infrared touchscreen with multi-touch
600 x 800 pixel resolution at 167 ppi, 16-level gray scale
4GB internal memory (3GB available)
Wi-Fi
Optional 3G via AT&T's 3G network in the US and partner networks outside of the US
3.5 mm stereo audio jack, rear-mounted stereo speakers
USB 2.0 port
Supported formats: AZW, TXT, PDF, unprotected MOBI, PRC, Audible (Audible Enhanced (AA, AAX)), MP3 natively; HTML, DOC, DOCX, JPEG, GIF, PNG, BMP through conversion
Battery Life: 4-8 weeks
Dimensions: 6.8″ x 4.7″ x 0.40″
Weight: 7.5 ounces, 7.8 ounces Kindle Touch 3G
Kindle Touch 3G Dimensions: 6.8″ x 4.7″ x 0.40″
Kindle Touch Features
Aside from the touchscreen, the Kindle Touch has most of the same features as the other Kindles. One difference is something called X-Ray, a new feature that lets customers explore the "bones of the book." With X-Ray, readers can see all the passages across a book that mention ideas, fictional characters, historical figures, places or topics that interest them, as well as more detailed descriptions from Wikipedia and Shelfari.
8 Font sizes
3 font types
Text-to-speech
Play audiobooks, podcasts, and MP3s (supports Audible.com audiobooks)
1 million ebooks, periodicals, blogs
Faster page turns
Supports Non-Latin Characters
Image zoom
Portrait and landscape modes
Real page numbers (Amazon said that months ago and I'm still yet to read a book with them)
Built-In dictionary
Wikipedia and web search
Free Cloud Storage for all Amazon content
Collections
Web browser (may or may not work over 3G)
Add bookmarks, notes, highlights
View popular highlights and public notes option
Lend ebooks (only works if publisher approved)
Whispersync keeps everything updated—last page read, annotations, etc
Set default language: English (US and UK), German, French, Spanish, Italian, Brazilian Portuguese.
Kindle Touch Videos
Subscribe to The eBook Reader Blog to keep updated on the latest Kindle reviews and news, or follow on Facebook, Twitter, and YouTube.