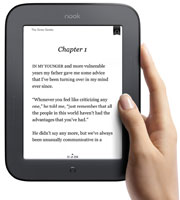 Shaving $13 off of the refurbished Nook Touch is hardly news, but the fact that it just happens to hit the magical psychological price of $99 warrants a mention.
That's right. The Nook Touch is marked down to $99 with free shipping on B&N.com

and on Barnes and Noble's eBay store.
The Nook Touch sells for $139 new, so that's a considerable discount, even if it has been handled by someone else for a short time. It comes in a new box, has the same 1 year warranty as a new Nook, and has been inspected before going out so it's a pretty safe bet.
Aside from being a really good ebook reader, the Nook Touch makes for a great experimental E Ink tablet once rooted and with the Android Market installed. You'd be surprised by the number of apps that work well on the thing.