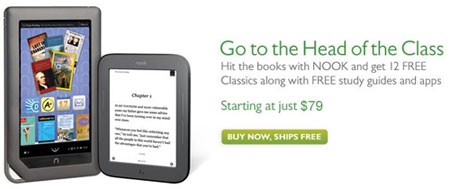 About two weeks ago, shortly after the new $79 Kindle 4 launched, Barnes and Noble dropped the price of certified pre-owned Nook Touches from $112 to $99.
Apparently they weren't selling fast enough because now B&N has the pre-owned Nook Touch marked down to $79. Not only that but Barnes and Noble shaved $30 off the price of refurbished Nook Colors
, taking them from $179 to just $149.
Both Nooks are also available from Barnes and Noble's eBay store. Regardless of where you get them, they all come with free shipping and the same warranty as brand new Nooks.
The $79 price point for the Nook Touch is interesting. That's the same exact price as the ad-supported Kindle 4. What would you rather have for $79, advertisements or a pre-owned ereader? Both are ridiculously good deals. Glad I don't have to choose.
The $149 price for the Nook Color is an interesting price point too with the Kindle Fire up for pre-order for $199, especially considering the Nook Color has some advantages over the Kindle Fire. Here's a Kindle Fire vs Nook Color review in case you missed it. That's not an easy choice either.
These sudden Nook sales point to one thing: Barnes and Noble is clearing out to make room for a new Nook Color. They just released the Nook Touch earlier this year so it's unlikely we'll see a new E Ink Nook, but the Nook Color is nearing its one year birthday—that's old by electronics standards. Don't be surprised when B&N announce a press conference in the next couple of weeks.