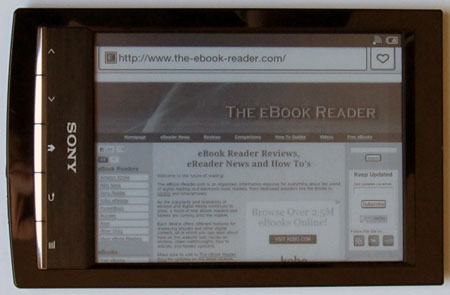 Below is a ten minute video review showing the web browser on the Sony PRS-T1 Reader Wi-Fi, along with how the library book integration works.
I already covered the details of the web browser on the second page of the Reader Wi-Fi review so I won't repeat them again here, but I will discuss how library books work.
The icon on the second page of the Reader's homescreen that says "Public Library" is a search portal for OverDrive's library system. Once you select a library, it gets added to a list for easy access whenever you want to browse that library for an ebook.
If you don't already have a library card, that's something easier done from a computer than the Reader Wi-Fi. I'd suggest hitting the library ebook tutorial and getting set up with a library card first.
Downloading library ebooks with the Reader Wi-Fi is essentially the same as downloading them with your computer because it uses the Reader's web browser with a mobile version of your library's website fit for the Reader's screen. There are categories for browsing, a search bar, and the "show only available titles" link. You can place holds on books and add them to your wish list. One thing missing is the advanced search, at least from my library.
Most libraries have public domain titles too from Project Gutenberg that don't have to be returned, but I tend to prefer Feedbooks for public domain books because they typically have better formatting.
Once you find a library ebook that you want, all you have to do is add it to the cart, then proceed to checkout, where you have to enter your library card number, if not already entered, to get the download link. Once downloaded the ebook appears in your library automatically. The Reader has to be authorized with your Adobe ID first, of course.
Library ebooks have an icon next to them in the Reader Wi-Fi's library that tells how many days are left before the book expires. If you long-press on a library ebook you have the option to return it.
All in all, Sony did a good job of making library ebook downloads easy on the PRS-T1. Once you get your library added to the list and your login info saved, it's just a matter of finding an ebook to checkout. And then it takes just a few seconds to download and you're good to read. I did get a security error from the Reader's web browser when going to enter my library card number—don't know what that means exactly.
Reader Wi-Fi Web Browser Video