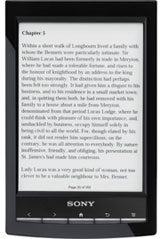 I've had a few days to experiment with my newly hacked Sony PRS-T1, and I've come to the conclusion that it needs a lot of work, so I decided to un-root it to take it back to its stock functionality.
The truth is the Nook Touch makes for a much better hacked E Ink tablet; I'd rather use it for Android apps for the time being unless the PRS-T1 package gets some major improvements.
Among a number of issues, the biggest negatives with rooting the PRS-T1, I found, is that the page-buttons no longer work for scrolling when using the web browser, there's only enough memory to install 3-5 small apps and most apps won't work, even the same ones that work fine on the Nook, and the constant black flashing for excessive page refreshing can induce seizures (okay, maybe not, but I wouldn't be surprised if it did).
To un-root the Sony PRS-T1, you use the exact same process as rooting it; you just download a different file instead.
But be warned, you'll have to go back to square one. Your Reader account will be erased, you'll have to re-enter your Adobe ID and Wi-Fi password, and all the bookmarks in the web browser will be erased. Oddly, the Reader still remembers notes, collections, and last-page read for all your sideloaded ebooks, which still remain, so it's not like a full reset.
Un-root Sony PRS-T1 Directions
1. Download the Rescue Set for the PRS-T1 from the original rooting thread at The eBook.
2. Extract the recovery set on your computer.
3. Plug the Sony PRS-T1 into your computer with the USB cable and select to enter data transfer mode (mine just kept saying "connecting" but it still worked).
4. Open the restore set folder and double click "flash_reader.bat". When the command prompt opens, hit Y then enter to proceed. A few minutes will pass as it works, then hit "any key" when asked. The Reader will reset and then it's back to original stock functionality.
Once you restore the PRS-T1 all the rooting stuff is gone and all the original features work again like normal.