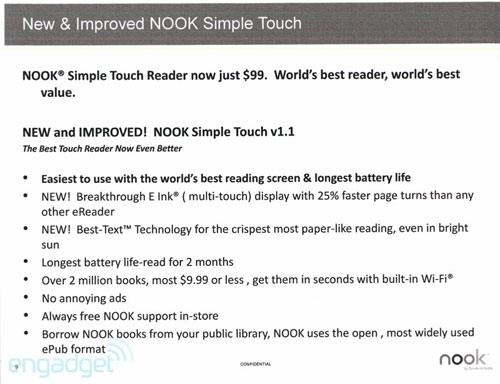 Next week's big Nook announcement has come early thanks to some leaked documents. Aside from the Nook Color getting Hulu Plus and the unveiling of the new Nook Tablet, the Nook Touch is getting a price drop down to $99 and a couple of new features to boot.
That's $40 less than the Nook Touch sells for now, and unlike the $99 Kindle Touch, the Nook Touch doesn't have advertisements, and it's funny how B&N make sure to point that fact out—the Kindle Touch without ads is $139, and the basic non-touchscreen Kindle 4 is $109 without ads. What is Amazon going to do to counter this, I wonder?
Aside from the new $99 price, the picture above reveals a couple of interesting new features. The first thing that jumps out is the part about multi-touch. The Nook currently doesn't support multi-touch, but the infrared screen technology that it uses does. The new Sony PRS-T1 and Kindle both boast multi-touch so it isn't surprising that B&N are adding it.
They all use the same touchscreens so the Nook's must be able to be activated with a firmware update. In fact, I forgot to mention the other day when testing different video games on the Nook Touch that the game Meteor Blitz somehow got the Nook to use multi-touch. You have to touch two parts of the screen, one spot to move the ship and another to fire projectiles. I wasn't expecting it to recognize both inputs simultaneously but somehow it did.
The other new feature is something called Best-Text Technology. There aren't any details at this point in time, but it likely means they've updated and refined the fonts. Also mentioned on another document is the fact the page-turns are 25% faster than any other ereader.
Unfortunately there's no mention of adding a web browser. The Nook Touch already has a hidden web browser, but it doesn't work very well. It runs Opera great once hacked, though.
More details to come next week at B&N's Nook announcement. Subscribe to keep updated!