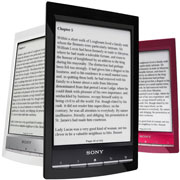 The Sony Reader PRS-T1 is on sale from a number of retailers this week for $129, including Sony.com and Amazon. It's only been out for little over a month, so it's about time they marked the price down. It normally sells for $149.
If you are a student, you can get a further discount from Sony, knocking the price down to $116 at their Education Store. Sony also has bundled packages from both stores that come with covers and ebook gift cards.
The Sony PRS-T1 is a really good ebook reader for that price because it is the most advanced 6-inch ereader on the current market. I've been using mine a lot lately because I really like the fonts, the web browser is hands-down the best of any ereader, library ebooks are easy to get, and the advanced note-taking features are a definite plus.
Another thing that is really cool with the PRS-T1 is that it can be hacked to run Android apps. If you want to read Kindle books or install a different ereader program like Cool Reader, you can. It's not as nice as a rooted Nook Touch is for running Android apps, but it is functional, and it supports audio unlike the Nook.
Here's my PRS-T1 review for more info about it. It has some quirks but is a good ereader overall. I would recommend it, especially for the more advanced users. Sometimes it can get slow and funky with PDFs but I haven't had any problems at all with reading EPUB ebooks and using the web browser. With all these quality low-priced ereaders now I'm sure glad I don't have to choose one.
Sorry for the delay on posting this, folks. It's been on sale for several days now but it's been a busy week.