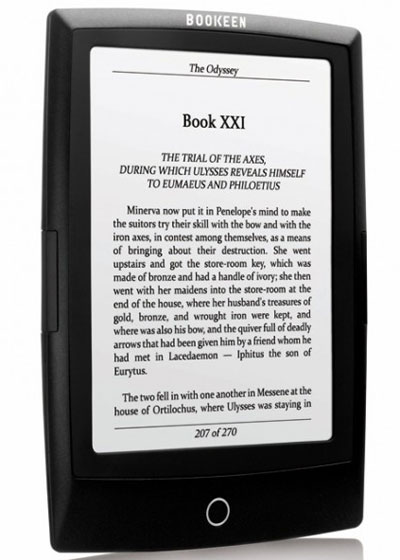 Bookeen launched a new ereader this week called the Cybook Odyssey. It is the first ebook reader to use Bookeen's new exclusive High Speed Ink System technology.
Bookeen is a France-based ebook reader company so naturally the Cybook Odyssey is available in Europe. It's unclear if it will be heading west to North America anytime soon. The other Cybook ereaders sell in the US so it will probably make its way here eventually.
The Cybook Odyssey releases in Europe on November 22nd. It is currently available for pre-order as of yesterday for £129 from Bookeen's website. That's not a bad price, actually.
The High Speed Ink System (HSIS) incorporated into the Cybook Odyssey took 2 years for Bookeen to develop. It supposedly will make the Odyssey the fastest E Ink ereader on the planet. There's a video on this earlier article that shows real time web-scrolling and it is indeed impressive. Unfortunately Bookeen has yet to upload a video showing off the Cybook Odyssey's speed; hopefully they'll make one soon.
Spec-wise, the Cybook Odyssey has a 6-inch E Ink Pearl touchscreen that supports multi-touch, it has Wi-Fi, an accelerometer for automatically switching screen orientation, one month battery life, a 3.5mm headphone jack, a Cortex A8 TI Omap processor that runs at 800MHz, it has 2GB built-in storage with 128MB RAM, and supports microSD cards up to 32GB. It measures 166mm x 120mm x 9mm and weighs 195 grams (6.9 ounces).
For features, the Odyssey has scrollable menus (a first for E Ink), zoom, web browser, 20 font sizes, personalized screensavers, notes, bookmarks, highlights, dictionary, and it supports 23 languages. The operating system is based on Linux 2.6.32. Supported formats include Adobe DRM, ePub, PDF, HTML, TXT, FB2, JPEG, PNG, GIF, BMP, ICO, TIF, PSD, and MP3.
I won't be reviewing the Cybook Odyssey since I don't live in Europe, but if you get your hands on one please give us a quick review. It would be nice to hear how well the new HSIS works.