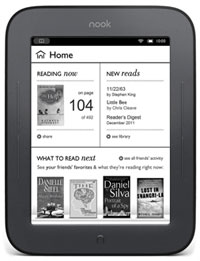 When I first installed the new firmware for the Nook Touch that Barnes and Noble released last week, version 1.1.0, I wasn't impressed. Barnes and Noble claim it is a "major" update, but after installing it I found out that it doesn't even add any noticeable new features.
However, after some further testing, I've come to the conclusion that the update is indeed impressive. The coolest thing about it is that it makes the Nook Touch a lot faster. The update also improves the fonts in both the menus and in ebooks, making the text noticeably darker.
With the new firmware, page-turns will go as fast as you can hit the buttons or tap the screen. Holding down will fast-scan through the pages, pausing slightly at chapters. The Sony Readers can do that as well, but the Nook is much faster.
It's not only the page-turns that are fast. The Nook is more responsive in all areas, jumping between the library, homescreen, settings, adjusting font. Even the books and lists load surprisingly fast while shopping B&N's ebookstore.
One thing is clear. The 1.1 firmware update has made the Nook Touch the fastest E Ink ereader on the planet. Not bad for $99 from B&N
. Perhaps the Cybook Odyssey with its high speed E Ink can out-pace the Nook, but that remains to be seen.
The only negative with the update is that it removes access to the unofficial web browser. Previously you could type a url into the search bar and it would launch a hidden web browser. It wasn't very functional so it's not a big loss, but it would have been nice if B&N had included it officially in the update. All the other major ereaders have a web browser now; the Nook is the only one that doesn't.
One other detail with the update is that it added support for table of contents with multiple levels…kind of. Everything is on a single level, but at least it shows the inner items with the 1.1 firmware.
Now I'm going to re-root my Nook Touch and take advantage of its new speed boost. I'll put together a separate post for that. In the meantime, here's a video showing off the Nook's speed with the new firmware.
Nook Touch Speed Test with Firmware 1.1