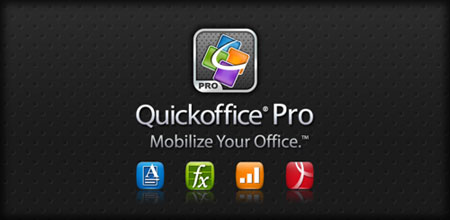 If you missed out on OfficeSuite Pro 5 back in October when it was Amazon's free app of the day, today you can make up for it by getting Quickoffice Pro from Amazon for free.
There are two versions. The regular version, Quickoffice Pro, works with Android devices running Android 2.0 and up. It normally costs $15 so getting it for free is a nice bonus. And if you have a Honeycomb tablet, there's Quickoffice Pro HD, which normally sells for $20.
I grabbed both, even though I'll probably never use them. After all, it's hard to pass up $35 in free apps, and you never know when they could come in handy.
With Quickoffice Pro you can create, edit, and share Microsoft Office files in the following formats: .doc, .docx, .xls, .xlsx, .ppt, and .pptx. It can also open and view PDF files, including password protected and encrypted files.
Here's more from the description for Quickoffice Pro:
Quickoffice Pro lets you get work done on the road by allowing easy access to Microsoft Word, Excel, and PowerPoint wherever you take your mobile. This app also provides you with a convenient PDF viewer so you can keep your important documents with you at all times. View document footnotes and endnotes in Word. Use the text-to-speech voice input and text recital option for an alternative way to word-process your documents. Get the most out of your Android device with this award-winning productivity suite.
If you miss this free app deal at Amazon, there's this free trial version of Quickoffice Pro on the Android Market.