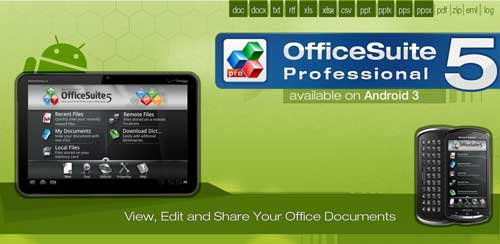 Want to write ebooks on your Android phone or tablet? How about editing Excel and PowerPoint files. With OfficeSuite Pro 5 you can do just that and more, and today it is Amazon's free paid app of the day.
OfficeSuite Pro 5 normally costs $14.99, so this a free app that you definitely want to get, even if you don't have an Android tablet or phone just yet.
If you plan on getting a Kindle Fire or other new Android tablet in the near future, you can get the app now while it's free and then download it later; Android apps gets to tied to your Amazon account so you don't have to have an Android device to get the apps. Update: Apparently Amazon does require you to have an Android device to download their apps, unlike Kindle ebooks; sorry for the confusion.
Here's the description for OfficeSuite Pro 5:
Create, view, edit and share Microsoft Word, Excel and PowerPoint files and attachments and view PDF files on your Android based phone with a single complete feature-rich mobile office solution. Now also on Android Honeycomb.

The software utilizes the most commonly used desktop document formats and also includes a File Browser and integration with Google Docs to help you manage your local, remote files and email attachments. OfficeSuite Pro is an essential productivity application offering greater office efficiency than ever anywhere, anytime.
If you miss this free app deal at Amazon, there's a free trial version of OfficeSuite Pro 5 on the Android Market.