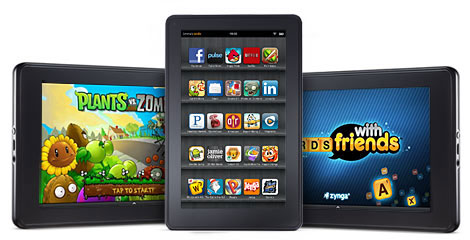 Here's a list of ten must-have apps for the Kindle Fire that aren't available in the Amazon Appstore. The Kindle Fire allows for installing apps from sources other than Amazon, luckily, but it can be hard to know where to get them. That's where this post comes in.
First, before you can install apps from third-party sources, you have to tap settings on the Kindle Fire, then more, then Device to select the option to install apps from unknown sources.
The apps below that link to the developer's website and to Android Freeware for the apk file can be downloaded directly with the Kindle Fire's web browser. Just tap the notification link when the download finishes, or hit menu then tap downloads from the browser to open the downloads folder.
A few of these apps link to GetJar because they seem to have more up-to-date apps. You have to download the GetJar app to the Kindle Fire first to get those. Just hit the download link for an app and it will give the option.
Aldiko – Aldiko is one of the best options for reading EPUB ebooks because it has a lot of customizable settings and supports Adobe DRM. This app is available from the Amazon Appstore, but for some annoying reason it doesn't show up on the Kindle Fire.
Nook – Surprisingly the Nook for Android app works great on the Kindle Fire. I especially like the animated page turns. Amazon should add that to the Kindle Fire.
Google Maps – Google Maps doesn't come with the Kindle Fire but it definitely is a must-have app. You might as well get Street View while you are at it.
Dropbox – Dropbox is a cloud storage app that works great for transferring files from a computer to the Kindle Fire wirelessly for formats Amazon doesn't send/convert. You can sign up for a free account with 2GB.
YouTube – The Kindle Fire's web browser has a bookmark for the mobile version of the YouTube website, but if you want to watch videos in high-quality you are going to need this YouTube app.
Facebook – Okay. I'll be the first to admit I don't use Facebook, but I'm smart enough to notice the Facebook "app" on the Kindle Fire is just a bookmark for the web browser. The real Android Facebook is bound to be loads better…right?
Overdrive – You can use the Kindle's web browser to shop for library ebooks and then download them through Amazon. Or you can just use the Overdrive app to download library ebooks in less steps. Plus have access to audiobooks.
Dolphin HD and Opera Mini Web browsers – The Amazon Silk web browser in nice, but the Dolphin and Opera browsers have been popular for a long time for good reason. Neither are showing up on the Kindle Fire's appstore even though they are both available from Amazon.
This is just a getting started list. Feel free to add you own suggestions to the comment section below!
P.S. My Kindle Fire arrived early this morning so I've had all day to play around with it. Here's the link to my Kindle Fire Video Review and First Impressions.