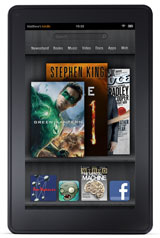 My Kindle Fire arrived early this morning so I've had all day to test it out and experiment with different things. I put together a video review and thought I'd write down some first impression while everything is still fresh in my brain.
First off, I like the feel of the Kindle Fire. It is compact and solidly built, the corners are rounded, and it has a soft coating on the back. My one complaint with the design is the power button. It is located on the bottom edge of the Kindle Fire and protrudes slightly. I'm always accidentally pressing it and causing the Kindle to turn off.
Even though the Kindle Fire runs Android 2.3, you wouldn't know it by looking at it because it is completely unique. Amazon gave it their own interface so the typical Android homescreen with widgets and app icons is out. I even tried installing a separate launcher app but it would not work.
Speaking of apps, the Kindle Fire is open to install apps from sources other than Amazon. That's good news indeed. In case you missed this earlier post, here's a list of ten top apps for the Kindle Fire not available from Amazon. You can install other ereading apps including Nook and Aldiko. The only downside with apps from other sources is the images aren't designed to be as large as the Kindle's homescreen makes them, making sideloaded app icons look all pixelated and stretched.
The Kindle Fire reading app is a lot like the Kindle for Android app, but it adds some new features. There are line-spacing and margin adjusting options, as well as 8 font styles.
The Kindle Fire comes with a free month trial of Amazon Prime. You don't have to sign up for it or anything, the trial automatically starts when you get the Fire as I found out by streaming one of Amazon's instant videos. I discovered you cannot download instant videos to watch offline, but you can download Amazon's rental videos. I was also able to sideload a video and some MP3s using Dropbox. I loaded YouTube and Netflix onto it as well and the video playback was excellent.
Overall the Kindle Fire has been smooth up to this point. No weird bugs or force closes. It does lag a little at times, when scrolling through long lists for instance, but games are fast and everything reacts quickly.
Amazon is going to have a lot of success with the Kindle Fire in all likelihood. The way everything is laid out and how it all ties-in with Amazon's store makes the Kindle Fire a unique tablet. It is more suited for first time tablet buyers than advanced users, and I think that is exactly what Amazon is going for.
Well, it's getting late. That's enough for now. I'll post more reviews and comparisons of the Kindle Fire in the coming days and weeks. Subscribe to The eBook Reader Blog to keep updated.
Kindle Fire Video Review