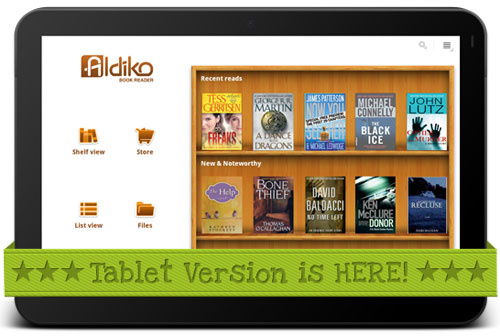 Aldiko is one of the best ebook reading apps for Android and it just got better.
Aldiko just issued an update that officially adds support for tablets, adding a new user interface and some new features. They made some changes to the phone version as well, with some visual improvements and new navigation icons, app icon, and shelf view.
The update also makes it easier to import content into the Aldiko app. You can now open and import ePub ebooks and PDF files directly from the web browser, email attachments, and cloud storage apps like Dropbox.
If you haven't used Aldiko before, you should give it a try. It is one of my favorite ereading apps. It supports ePub and PDF files, including ebooks with Adobe DRM, and library ebooks too. It has options for customizing layout—line-spacing, margins, text alignment, font size, font type, background and text color, and you can adjust brightness on the fly by swiping vertically along the left side of the screen.
Some other features include dictionary look up, bookmarks, active hyperlinks, table of contents, search, sharing, and night reading mode. The Aldiko app has some built-in ebookstores too. Or you can sideload everything.
The update is currently available for the Premium version on the Android Market, and will soon be released to the Free version as well. The Aldiko apps in the Amazon appstore will be updated as soon as they go through Amazon's review process.
There are some good pictures that show the new tablet user interface over on the Android Market as well this video embedded below. The tablet features start at the 28 second mark.