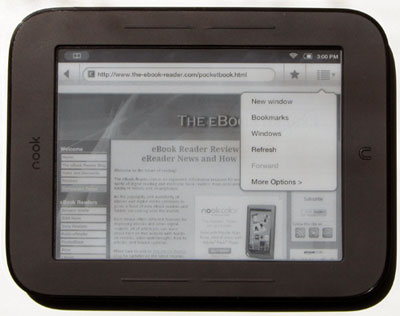 For those of you that miss the web browser on the Nook Touch since Barnes and Noble updated the firmware to 1.1, there's still a way to access it.
Before the update you could just type a url into the search bar and it would automatically launch a hidden Android web browser. It's not an official feature and it doesn't work very well, but it is there and it is somewhat usable.
Here's how to access the hidden web browser on the Nook Touch with firmware 1.1:
Press the "n" button.
Open Settings.
Tap Social.
Tap link to Facebook, Twitter, and Google.
Select "link your account" under Google.
Tap "Can't access your account?"
Select Google Home to launch the web browser.
One thing I noticed is there is a bug that keeps this from working on my rooted Nook Touch using the SalsichaNooter rooting method. Tapping the "Link to Facebook, Twitter, and Google" does nothing. It just flashes and goes back to the Social screen. Obviously it doesn't matter because once rooted you can install the Opera web browser and it works a lot better than the stock Android browser anyway.