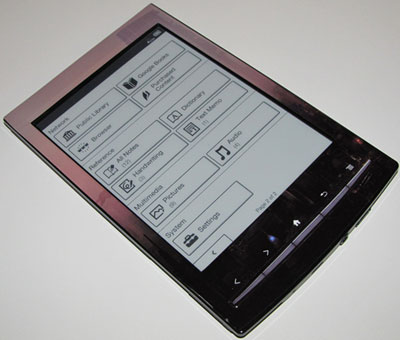 I received an email from GelaSkins
the other day about how they now sell all their ereader skins with a velvety matte finish instead of the usual gloss finish.
The matte finish helps to eliminate glare, of course, an always important factor with ebook readers. The change only affects ereader skins; all the other skins from GelaSkins still have the glossy finish like always.
This is a good change because that was one of my concerns with the GelaSkin that I put on my Sony PRS-T1 awhile back to help eliminate the glossy finish on the PRS-T1's frame. The skin helped minimize glare somewhat, but the skin itself was glossy so light still reflected off of it enough to make the difference negligible.
Now with the new matte finish skins glare should be a non-issue. And GelaSkins has skins for the major brands of ereaders: Kindle, Nook, Sony, and Kobo. I think I might try to snag one for the Kindle Touch to see what the new matte finish looks and feels like.
I never got around to putting together an official review for the Sony PRS-T1 skin, but I did post this review of the Kindle Fire Steampunk skin.
The problem is skins don't mix well with the Sony PRS-T1's lighted cover. The cover wraps around the edges slightly so it pushes up the edges of the skin on the front of the device so I had to take it off. Plus I wasn't a fan of the pink coloration on the design that I picked (choose carefully!). However, I really like the skin on my Kindle Fire and it's still in great shape.
GelaSkins eReader and Tablet Skins