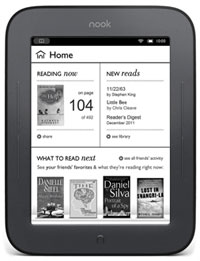 Barnes and Noble released some new firmware for the Nook Simple Touch today, version 1.1.2.
It is a minor update that fixes bugs and provides "minor system enhancements", as Barnes and Noble describes it, so don't expect any new features or major changes to the software.
If you've had any issues with your Nook Simple Touch connecting to Wi-Fi, this update should fix that problem. One of the administrators on the B&N Nook forums said that the update includes a fix for the Wi-Fi connection problems with some routers.
The update will automatically download and install in the coming days/weeks on Nook Simple Touches that are connected to Wi-Fi.
If you don't have Wi-Fi or want to install the update now, you can find the manual installation directions and the download file on B&N's Nook Touch software updates page.
Basically all you have to do is place the update zip file on the Nook Touch's root folder, the main drive, and then it will automatically recognize the file after a few minutes when it goes into sleep mode and apply the update.
Since my Nook Touch is rooted, I'm not even going to think about trying to update. Rooted devices and firmware updates rarely work well together, and since it is a minor update it's not worth the trouble. The poor developers for the Nook Touch rooting packages will probably have to fix what the update breaks…again.