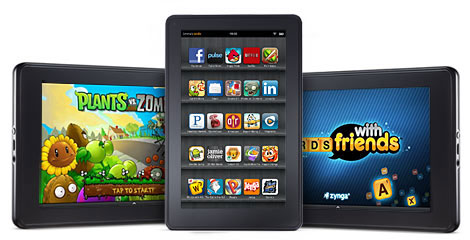 Amazon has started rolling out a new firmware update for the Kindle Fire that adds some nifty new features. Unfortunately it also removes root access if you happen to have a rooted Kindle Fire.
Amazon has posted the released details for the 6.3 update, but they haven't posted the download file just yet for manual install. The update is being pushed over-the-air for now.
Some of the new features in the 6.3 update include:
Sharing: share passages and notes from within an ebook.
Book Extras: this sounds like the X-ray feature on the Kindle Touch, which scans a book's contents and provides additional information about the characters and story via Shelfari.
Archive of Personal Documents: the personal documents tab will have your archived ebooks and documents available for download, plus it will include the usual syncing of notes, highlights, etc.
Print Replica Textbooks: Amazon is adding support for their print replica textbooks.
Reading View for Silk Browser: the Silk web browser is getting a new reading view feature that strips the ads and extra content to focus on the body of an article.
Movie Rentals: movie rentals now start from the time you first start watching a video instead on when you download it.
You can check the Kindle Fire software updates page to see if Amazon has added the download file.
To check for the update on your Kindle, open the quick settings menu and tap the sync button.
To check what firmware version your Kindle Fire is running, go to Settings > Device > System Version.
If you have a rooted Kindle Fire it would be a good idea to do one of the following: