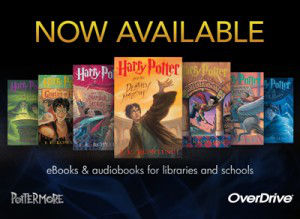 Harry Potter ebooks and audiobooks officially became available for purchase for the first time two days ago and now they have arrived at school and public libraries as well.
All you need is a valid library card to check out Harry Potter ebooks and audiobooks for free. The entire ebook series sells for $57.54 bundled in the US, or $8-$10 individually, and the audiobooks are $242.94 bundled and $30-$45 individually, so you can save some serious cash by going the library route instead.
If you haven't borrowed ebooks or audiobooks from the library before, here's the complete guide for getting ebooks from libraries with OverDrive.
You can sign up for most library cards online for free, and if your local library doesn't have ebooks there are a number of out-of-state libraries that offer non-resident library cards for a yearly fee.
You will need one of the following to read Harry Potter ebooks from the library:
Any ebook reader that supports Abode DRM EPUB (most do).
A tablet or cell phone with the OverDrive Media Console app installed.
A computer with Adobe Digital Editions installed.
A Kindle or Kindle app (it's US-only for Kindles for some reason).
The only downside with library rentals is the wait lists and return periods. Typically you can check out an ebook for 7-21 days, usually 21. You can renew it if there isn't anyone on the wait list but that's probably not going to happen for next decade or so.