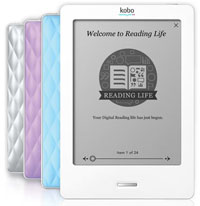 Kobo is offering some huge sales right now, so big it makes you wonder if something is about to go down. Giving out codes for 90% off of ebooks is a good way to rack up sales and draw in customers, but certainly isn't a good way to make money.
It makes me think Kobo is about to do something big. About this time last year they were giving out a ton of discount codes right before they launched the Kobo Touch ereader. After that the discount codes dried up for a while.
Is a new Kobo eReader or Tablet on the verge of being released?
I'd say there is a very good chance that Kobo is about to release a new gadget. They release a new E Ink ereader about this time every year, but unless they are adding a light to it like the new Nook Glow, it's hard to imagine what kind of major changes they could make. Color E Ink just doesn't seem like it has much of a chance until the technology is improved.
It's more likely that Kobo could introduce a successor to the Kobo Vox, seeing as how it is pretty out-dated by tablet standards, even though it is less than a year old.
Whatever it is, something is afoot at Kobo…
Kobo eBooks Discount Codes
These discount codes for Kobobooks.com are one use per customer and the usual publishing house segregation rules apply, meaning titles from certain publishers can't be discounted (it will be interesting to see how the DOJ price-fixing lawsuit affects this moving forward).
90% off – welcome90us
90% off – welcome90ca
75% off – welcome75us
75% off – welcome75ca
50% off – welcome50us
50% off – welcome50ca
Update: Here are a couple more codes; the price of the ebook has to be greater than the discount:
$10 off – welcome10us
$10 off – welcome10ca
$5 off – welcome5us
$5 off – welcome5ca
Some older codes that are still active:
45% off – c4auto45
40% off – c4auto40
35% off – c4auto35
35% off – c2auto35
$1 off – Kobodollaroff
The above codes could all expire at any time.
Codes via MobileRead and my inbox.
Kobo Touch Sale
The Kobo Touch is on sale until May 3rd when ordering from Kobo directly.
The best deal is the Mother's Day bundle that includes a Kobo Touch and a gel skin case for $99. It is the regular Kobo Touch without ads that normally sells for $129, and the gel skins sell for $14.99.
The Kobo Touch with Offers (screensaver ads) is marked down to $79, the same as the Kindle 4. Given the fact both have ads and the Kobo Touch has a touchscreen and some extra features, that is an impressive price. But the bundle package is the better deal overall since it comes with a case and has no advertisements.