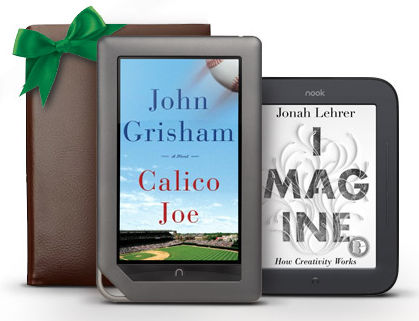 Barnes and Noble is a day late for the Sales and Deals article I posted yesterday, but this is worth mentioning so here it goes…
Barnes and Noble is currently running two separate Nook promotions for record low prices on the Nook Touch and/or Nook Color. If you've been debating whether or not to buy a Nook, now would be a good time to pull the trigger.
The deals go like this:
1. $135 Nook Color and Nook Touch Bundle – B&N is offering a buy-one-get-one free bundle deal via eBay. When you purchase a refurbished Nook Color for $135 you get a free refurbished Nook Touch that normally sells for $79.
2. The second deal is a Father's Day and graduation promotion that is valid until June 17, 2011. You get $20 off the purchase of a new Nook Color or a new Nook Touch from B&N.com or in-store when you use a MaterCard to make the purchase. Here are the details. This drops the price of the Nook Color down to $149 and the Nook Touch to $79.
There's no question the first deal is the better one to go with. Don't let the word "refurbished" scare you off. B&N has tested and inspected them and repaired them if needed. These are actually the same type of units B&N sends out if you need to exchange a broken one. I once got refurbished Nook Touch and aside from the sticker on the box stating it was a refurb, I couldn't tell the difference because it was in perfect condition.
Too bad B&N isn't discounting the Nook Tablet or the Nook Touch with GlowLight. Guess they are just trying to clear out some of the stock on their older Nooks.