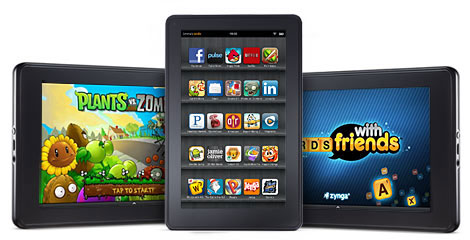 The Kindle Fire is a 7″ tablet that runs a customized version of Android 2.3, and today only you can nab a brand new Kindle Fire for $30 off the regular price with a voucher from AmazonLocal deals. Plus it comes with a $5 credit for Amazon's Instant Videos.
This is a one day deal and you have to use the voucher to buy a Kindle Fire from Amazon by June 15th to get $30 off. And then after the order ships Amazon will send an email with the $5 credit for Amazon's Instant Video service.
This is the lowest price ever for a new Kindle Fire, and it's a pretty good deal considering the specs of the Kindle Fire compared to other tablets in the $169 price range. It lacks a camera and SD card slot, but it has a zippy dual-core processor and a nice 1024 x 600 IPS display, neither of which you'll find on a budget tablet for that price. Check out my Kindle Fire review for more details about the device.
The Kindle Fire is a nice tablet out-of-the-box, but it also has an active development community. Aside from the official software from Amazon, the Kindle Fire can also run completely different versions of Android, including Android 4.0 thanks to CM9 ROMs, and a more open version of Android 2.3 with CyanogenMod 7.
The Kindle Fire can also be rooted to install the Google Play store for access to a wider selection of apps, while still maintaining Amazon's official software.
If you miss out of this deal, Amazon sells refurbished Kindle Fires for $169 as well.