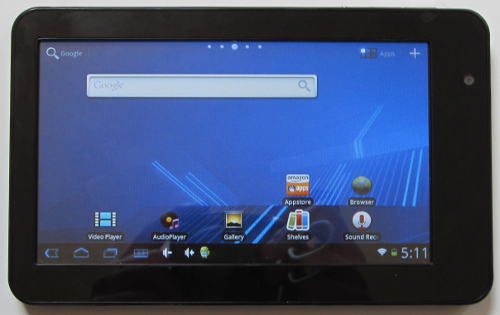 A few weeks ago I decided to buy the Ematic eGlide Prima that I posted about back in May. I decided to review it because it's a cheap tablet for $99 that runs Android 4.0 and is the only sub-$100 tablet I've seen with official support for Google apps, or so the listing at Amazon states.
The problem, however, is that Amazon sent me the wrong tablet. For some reason I received the Ematic eGlide Pro II instead (they could have at least sent the eGlide Pro III that is more comparable to the Prima). So I thought I might as well post a quick review of it before sending it back, even though I doubt many people will be wasting their money on a cheap Android tablet from last year that runs Android 2.3 when they can get a newer model for the same price.
The strange thing is, Ematic is using a Honeycomb launcher on the eGlide Pro II to make it look like it's running a newer version of Android. But the settings menu doesn't lie. It's Android 2.3.1 Gingerbread. I even went through the painful process of updating the device's firmware, but that didn't change anything.
Operating system aside, the Ematic eGlide Pro II is a 7-inch tablet with 4GB of internal storage, a microSD card slot, mini HDMI port, front-facing camera, USB host, one rear speaker, microphone, and a headphone jack. It has a capacitive touchscreen (5-points) with a 800 x 480 pixel resolution. It is powered by a 1GHz Cortex A9 processor and it has 512MB of RAM.
Pros
Full size USB port (host) for connecting a flash drive, keyboard, mouse, etc.
The tablet is relatively quick and responsive, and the touchscreen works fairly well.
The Honeycomb launcher is a nice touch actually, much better than the stock Gingerbread launcher.
Comes with the Kobo app pre-installed for ebooks.
Cons
Doesn't support Google Play appstore and the appstore it does come with is terrible; using alternate appstores is a must.
Older operating system (not a huge deal but Android 4.0 is better).
Netflix doesn't work.
The front-facing camera isn't very good; aside from the graininess, this unit's camera has a white line that goes down the center that shows up on pictures and videos.
It has a mini HDMI port, which is a pro, but the connection is very loose and shaky.
As far as pre-installed apps, it comes with the usual Android web browser, calculator, calendar, photo gallery, music player, video player, and email. It comes with YouTube and the basic version of OfficeSuite that allows you to view office files and PDFs but not edit them unless you purchase the upgraded version for $14.99.
As mentioned above, it comes pre-loaded with the Kobo ereading app for ebooks. It has a basic secondary ereading program with some built-in stores (Feedbooks, Smashwords, ManyBooks). But you'd be better off installing Aldiko or FBReader to get a full suite of ereading features.
There's also a news app but it's not really an app; it just list various publications which directs the web browser to open the mobile version of their website.
Given the pre-installed games—Ant Smasher, Bubble Blast 2, Bunny Shooter, Connect 'em—one would think the target audience for the Ematic eGlide Pro II is young kids. I guess they figure parents are more apt to buy their kids a $99 tablet than an iPad 3.
I noticed a couple of odd things with the design of this tablet. First, the edge is a different width on all four sides of the screen, making the display oddly off-center all around. Second, there's a stylus that's glued into one of the edges. It's glued in because it's apparently from an older design when Ematic was using resistive screens; the stylus doesn't work with the eGlide Pro II's capacitive screen (I tried).
In conclusion, the Ematic eGlide Pro II works well enough and doesn't have any major faults (other than the fact it clearly is not the Ematic Prima), but you'd be better off getting something with a newer operating system and hopefully a better camera and HDMI port.
Ematic eGlide Pro II Video Review