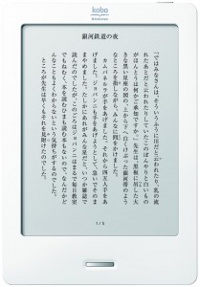 Today Kobo announced that they are bringing their ebookstore and Kobo Touch ereader to Japan on July 19th.
This is no big surprise considering Kobo was purchased by Rakuten earlier this year, a Japanese online retailer. The bigger surprise is that Kobo beat Amazon to the punch, who is also expected to launch an ebookstore and ereader in Japan any time now.
The Japanese version of the Kobo Touch has been re-vamped with a regional interface and is up for pre-order for ¥7,980, which is about $100 USD, the same it sells for in the US and Canada.
The Japanese Kobo ebook store will have over 30,000 Japanese-language titles at launch, including novels, essays, and comic books, and over 2.4 million ebooks in other languages.
Other than manga, ebooks have yet to take off in Japan like they have in other countries. Kobo could score big on this market seeing as how Rakuten is basically the Amazon.com of Japan and already has huge brand recognition.
Reading between the lines, the release of the Kobo Touch in Japan could lead one to assume that Kobo isn't going to be releasing a new ebook reader any time soon here in the US and Canada.
Like most ereader companies, Kobo usually releases a new ebook reader each year. The Kobo Touch is over 1 year old now, and still there's no hint of a new ebook reader coming from Kobo.
If they are releasing the Kobo Touch in Japan on July 19th, it doesn't seem logical to replace it with an updated model a month later. Of course they could always release a new ebook reader in North America first and then stagger the release to other countries.
But that's not how I see things going down for Kobo this year. There's a slim chance they could release a new Kobo Touch with a front light like the Nook Touch with GlowLight, but that might be a few months away still.
Given the fact Kobo just updated the Kobo Vox to add official support for Google's Play Store and apps, I'd say it is much more likely that Kobo will be releasing a new tablet in the next couple of months, the Kobo Vox 2.