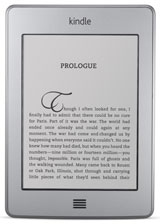 Amazon has issued a new firmware update for the Kindle Touch, version 5.1.2. It doesn't bring any cool new features but it does close a glaring security hole in the Kindle Touch's web browser.
It turns out the Kindle's "Experimental" web browser, as Amazon calls it, was indeed the experiment of hackers who discovered an exploit that could potentially allow a website to take control of your Kindle and even possibly the information on it.
There weren't any reports of something like that actually happening. Mostly the exploit was used by developers to easily jailbreak the Kindle Touch by simply visiting a website and hitting a few buttons. Now with the 5.1.2 update that no longer works.
Amazon doesn't mention any of this outright, of course. All they say about the update is that it "addresses a known bug".
Like usual, the update will be automatically pushed to all Kindle Touches in the coming weeks over WiFi.
Or you can head over to Amazon and download the update now, and install it yourself. Note that you must have the 5.1.0 update or 5.1.1 update installed first.