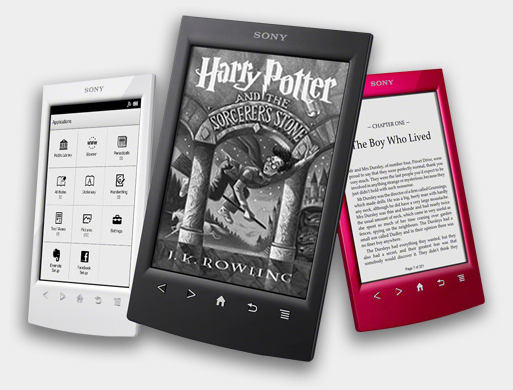 Sony officially announced their latest ebook reader today, the Sony Reader PRS-T2, and it's now available for order from Sony.com for $129 in three colors, red, black, and white. It's also available from Sony Canada for $139.
I'd suggest waiting a couple of weeks to buy, however, since it is likely to go on sale for $99 in a few weeks, at least in the Unites States.
The leaked product page at J&R.com last week already revealed the details about the PRS-T2 so there weren't any surprises in regards to features…unfortunately.
The fact is the PRS-T2 is a marginal upgrade—more of a side-grade—from Sony's PRS-T1 ebook reader that was released last year. It has the same 6″ E Ink Pearl 800 x 600 resolution screen, the same infrared touchscreen, and basically the same reading features. It lacks audio support though—in that regard it's a downgrade from the PRS-T1.
The main difference is the PRS-T2 has an updated design with new buttons and a matte finish instead of glossy. Sony is also billing it as one of the lightest ereaders at just under 6 ounces.
The PRS-T2 comes with some new software features too, such as partial refresh, smoother zooming, integration with Evernote for saving web content and notes, and Facebook for sharing your literary adventures.
Like its predecessor, the PRS-T2 has WiFi for downloading ebooks from Sony and a web browser for downloading ebooks from public libraries and other websites. There are seven font types to choose from, on-screen notes and highlights, and a number of other reading features.
As part of the marketing campaign, the PRS-T2 comes with a free copy of the first Harry Potter ebook. But that only appears to come with the black model; neither the red nor white show that as an option on Sony's website.
I will be buying a Sony PRS-T2 to review so stay tuned for more details.