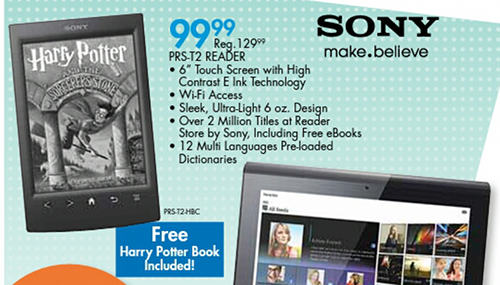 Given the leaked product pages for the new Sony PRS-T2 ebook reader that turned up on J&R.com Thursday night (they've since been taken down) and the fact the PRS-T1 is no longer for sale on Sony's website, there is a very good chance that Sony will make an official announcement about the release of the PRS-T2 this upcoming week.
After all, the exact same thing happened last year, except it was a Dutch website that posted product pages for the PRS-T1 ahead of launch. The year before that Engadget had leaked pictures.
And that's not the only pattern that Sony Readers seem to fall into in recent years.
If history is any indication, it would be wise not to order a PRS-T2 right away if you decide to get one. Sony has an annoying habit of running sales on their new ereaders within a month after launch.
It happened last year with the PRS-T1 where it initially sold for $129 but then was on sale a few weeks after launch for $99, and stayed that price until after Christmas was over. The year before with the PRS-650 and PRS-350 stores were offering a free $50 cover with reading light while Sony was selling the Readers for the same price without a cover. Not the best way to make customers happy.
Preliminary indications point to the same type of thing happening this year. The product pages at J&R showed a suggested retail price of $129 for the pre-orders. When I ran a search for the model number I turned up a flyer for MCX that showed the PRS-T2 on sale for $99 from September 5th-18th.
I guess we'll find out soon enough when Sony makes the announcement.