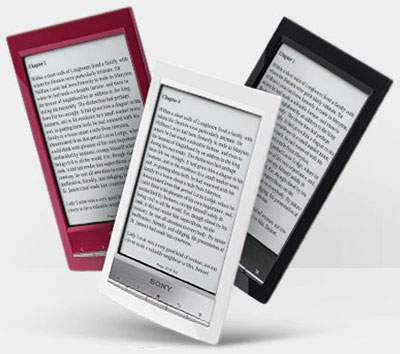 Today Sony made their new PRS-T1 ebook reader official by putting up a page for what is being dubbed the Reader WiFi on Sony.com, where you can sign up to be notified when it is available for order. Sony might as well get the word out since a Dutch website already let the cat out of the bag last week.
The Reader WiFi is essentially an updated version of the PRS-650 from last year, the main difference is the addition of WiFi and the change to a lighter plastic frame instead of aluminum.
From the earlier leaked details, we already knew the Reader WiFi comes with a 6-inch E Ink Pearl touchscreen with multi-touch support, 2GB of memory, a microSD card slot, the usual on-screen note-taking and highlighting features for Sony Readers, 12 built-in dictionaries, and Wikipedia and Google search.
Now we know some of the other details too. For starters, the Reader WiFi will cost $149 in the US. It will be available for pre-order sometime in September and is expected to ship in October. There will be three colors to choose from, black, white, and red.
And while it was earlier rumored that there would be a Sony Reader bundle that included the entire Harry Potter series, that appears to be false. Instead Sony mentions a Reader Wi-Fi bundle that includes a coupon to download the first Harry Potter ebook for free, the Sorcerer's Stone, not the whole series.
One interesting detail, the new Sony WiFi will be able to download library ebooks wirelessly. That will be a nice perk, usually you have to sideload library ebooks with Adobe Digital Editions. Plus it will have a basic web browser capable of downloading supported file types.
Other details for the new Sony Reader WiFi include a battery life of over one month on a single charge, built-in audio player and headphone jack, and 1GHz Intel processor. Again, there's mention of adjusting the font size, but nothing about adjusting font type or layout settings—Sony needs to add these features, the Nook, Kobo, and Kindle all offer advanced layout and font settings.
Update: Here's a second post with a better video, news that the Reader Wi-Fi runs Android, and confirmation that there are indeed multiple font types.
Engadget's Hands-on Video