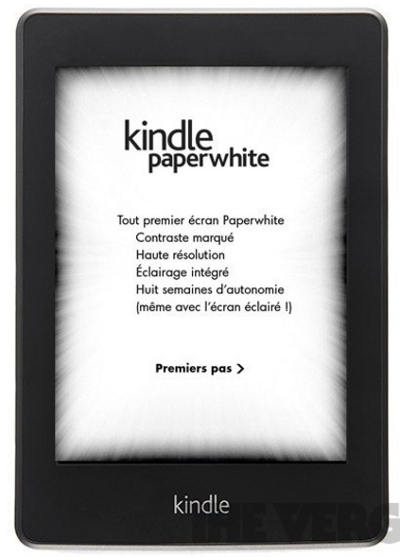 Yesterday some leaked photos of a new Kindle "Paperwhite" got posted by The Verge and if it turns out the photos and information are accurate, this could mark a big change for the direction of the Kindle ebook readers.
The new Kindle appears to be a replica of the Kindle Touch from a design perspective, although the home button below the screen is missing and the bezel color is black instead of gray.
The new screen is where things get really interesting. Supposedly it has better contrast and higher resolution, as well as integrated lighting and eight weeks of battery life, even when using the light.
The biggest question, though, is the reference to "Paperwhite". Is this a new type of screen technology? Or is it just the usual marketing terminology?
The article at The Verge uses the phrase "baklit display" in the title of the article. If that's true then the new Kindle Paperwhite does not use E Ink as all the other Kindles before it have because E Ink and backlights don't mix. The way the technology works E Ink needs a front-light like the Nook Touch with GlowLight.
It's more likely the new Kindle uses a front-light instead of a backlight. E Ink doesn't have any competitors so where would Amazon get a new type of ebook reader screen technology? The leaked photos all show black and white pictures on the screen of the new Kindle so it isn't using an alternative color display technology.
Regardless, the new Kindle looks like it's going to be getting some pretty nice upgrades. It will be interesting to see how it turns out next week when Amazon is expected to unveil their new line of Kindle ereaders and tablets. Stay tuned….