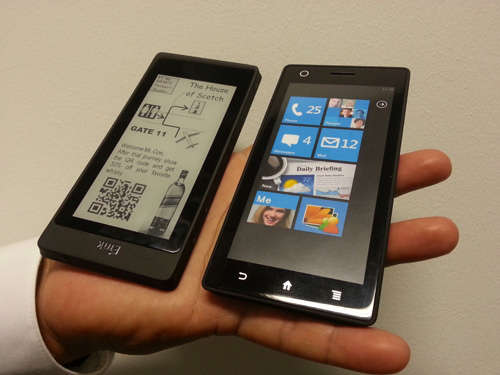 Once again Charbax from ARMdevices.net has posted a lengthy interview with Sriram Peruvemba, the marketing director of E Ink.
Much like the video interview with E Ink posted back in July from SID, this video shows demos of several products and prototypes that use E Ink technology. Most of the products were already shown in the previous video, but there are some new items worth looking at.
One of the things that jumps out is the color Triton display combined with a front light (starts at 10:40). Using a front light makes the colors appear brighter and the overall color less gray.
There's also mention of how the new Triton 2 displays have better color saturation because E Ink has made the pixels larger, which isn't so great for reading but is better for other applications like signage.
They show off the new flexible E Ink displays again that are much more durable than existing screens. Hopefully these start becoming more widely used because regular E Ink screens are very fragile.
The highlight of the video is a prototype for a dual-screen phone that has an LCD screen on one side and an E Ink screen on the other (starts at 15:40). That would be a cool idea for tablets too (Amazon seems to think so too because they recently applied to patent the concept). E Ink says they've already developed the product and it could be out in a few months.
E Ink at IFA 2012
Photo via Stuff TV