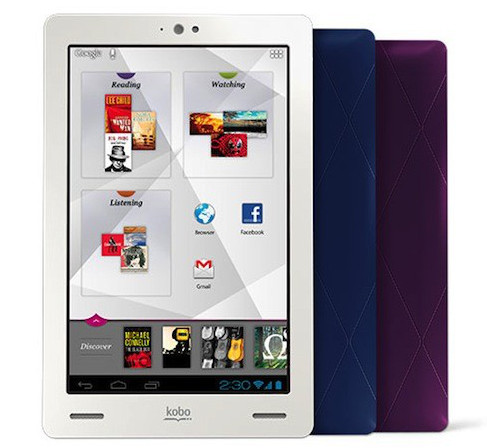 Remember a couple of weeks ago when Kobo unexpectedly announced two new ebook readers and the Kobo Arc tablet on the morning of Amazon's big Kindle press conference?
Now that Kobo knows what they are up against with the 7″ Kindle Fire HD, they are upping the storage configurations for their Kobo Arc tablet while maintaining the same price.
Initially Kobo said the Arc tablet would be available in 8GB and 16GB models. Now they are doing away with the 8GB model. The 16GB Kobo Arc will now be the base model and will sell for $199 (nice, it hasn't even been released yet and is already getting a $50 price cut).
Kobo is also going to offer a 32GB model for $249 and a 64GB model for $299. The larger model is rather odd seeing as how there are a number of better tablets for that price, but I guess Kobo wanted to provide plenty of options.
In case you missed it, the Kobo Arc is a 7″ tablet with similar specs to the new Kindle Fire HD. It has a high resolution 1280 x 800 IPS screen, a 1.5GHz OMAP 4470 dual-core processor, 1GB of RAM, a front-facing 1.3MP camera, dual front-facing speakers, and it delivers 10 hours of battery life.
The main thing that separates the Kobo Arc from the Kindle Fire is the software. The Arc runs open Android 4.0, and the Kindle uses a closed-in custom version of Android 4.0. The Kobo supports Google apps and even comes with access to Google's appstore, which has over 600,000 apps. The Kindle Fire on the other hand has to be hacked to get access to Google Play.
The Kobo Arc is expected to be released in mid-November. More information about the device can be found on Kobo's website.
The folks at Engadget posted an early hands-on with the Kobo Arc. It has a custom homescreen that looks rather unique. Take a look:
Engadget's Kobo Arc Hands-on Video Review