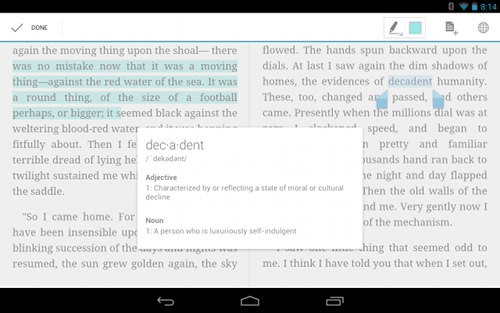 Yesterday Google issued an update for their ebook app to add a number of new features so I figured now would be a good time to put together a review of the Google Play Books app for Android.
Up until now Google's ebook app has been pretty lackluster when compared to all the other ebook apps out there, but the latest update has turned it into one of the better ereading apps for Android.
It still lacks the ability to sideload your own ebooks, however, so you can only use it for Google's ebooks—that's the biggest negative. I've said it before and I'll say it again: Google needs to add an ebook upload option.
Other than the exclusivity, it's a pretty nice app. The new features include the ability to add notes and highlights, look-up words in the dictionary, they added sepia mode, sliding page-turns if you want to turn off the fancy animations, and "Places" info cards that show up with a map and Wikipedia entry when you select text that is a place.
They also added a really cool new translate feature. You can highlight a single word or even an entire page and have it translated on the fly into dozens of languages. That's a unique feature you aren't going to get with other ebook apps. Same goes for the option to view the original scanned pages of public domain ebooks.
Other features for the Google Play Books app include the ability to change font types and text sizes, adjust line spacing and text alignment, there are day and night themes in addition to the new sepia setting, text-to-speech to read a book aloud, bookmarks, sharing, and there's search, a page slider, and a table of contents to navigate.
Here's a video review showing the Google Play Books app in action. One thing I forgot to show is landscape mode. It uses two-column landscape and it looks quite nice.
Google Play Books Video Review