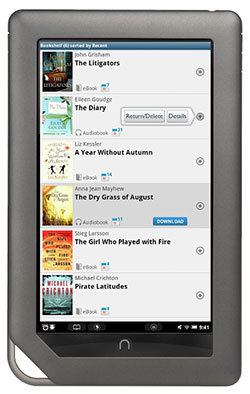 If you own a Nook Color, a Nook Tablet, or plan on getting one of the new Nook HD tablets, Barnes and Noble recently added the OverDrive Media Console app to the Nook Appstore to make borrowing ebooks and audiobooks from public libraries a lot easier and more convenient.
Previously if you wanted to get ebooks from your library you had to download everything to a computer and then sideload the files using Adobe Digital Editions and a USB cable—rather inconvenient for a wireless device.
Now with the OverDrive app, the process is more intuitive and simple because you can do everything you need from the app itself, including finding your library and then browsing and downloading ebooks and audiobooks directly to the Nook.
All you have to do is enter your Adobe ID information in the settings menu (you'll need Adobe Digital Editions if you don't have an ID setup yet), then find your library (if you don't have a library card, here's a tutorial on how to get one), and then enter your library card number when you go to download ebooks or audiobooks, and you're good to go.
Everything gets saved so it's easily accessible the next time around, and then your downloaded ebooks and audiobooks will expire automatically after the lending period, typically 7-21 days.
Unfortunately Nook Touch and Nook Glow owners still have to use the old method of sideloading. That is unless you hack the Nook to allow it to install Android apps, in which case the OverDrive app works too.