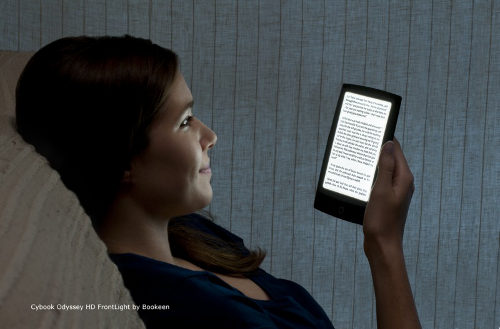 The year of the lighted ebook reader is in full swing, so it comes as no big surprise that one of the oldest ebook reader companies, Bookeen, just announced the frontlight-equipped Cybook Odyssey HD that is coming to Europe in November.
As the name suggests, the Cybook Odyssey HD uses the higher resolution 6-inch 758 x 1024 Pearl displays from E Ink. It also uses Bookeen's patented HSIS technology (High Speed Ink System) for faster scrolling and refreshing.
Like the Kindle Paperwhite, the Cybook Odyssey has a capacitive touchscreen instead of the more common infrared touchscreens used by most other brands. But unlike the Kindle, it has physical page-turning buttons in addition to the touchscreen.
Other than utilizing a laminated light guide film to distribute the light, Bookeen hasn't revealed the specifics of the frontlight technology just yet, but it's pretty safe to assume they are using small LED lights built into the frame like everyone else. One additional detail they do reveal is that the Cybook Odyssey HD's frontlight offers a choice of twenty brightness levels with an on-screen slider.
Apparently it has a new optimized user-interface to go along with the HD screen, and PDF support has been improved upon from last year's model as well, with the addition of PDF reflow.
The Cybook Odyssey HD has WiFi for downloading ebooks and is one of the lightest ebook readers at 180 grams (6.35 ounces).
That's all the specifics Bookeen has offered at this point in time. It's fairly safe to assume this new HD model will support the same ebook formats as its predecessor, which includes Adobe DRM, EPUB, PDF, HTML, TXT, and FB2. The last model also had an accelerometer, a headphone jack, 2GB of storage space, and a microSD card slot. But it remains to be seen if the new HD model has these same features.