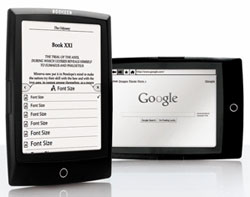 Last week Bookeen uploaded four videos on YouTube showing off their new Cybook Odyssey ebook reader. It is the first device to use a new high speed E Ink display technology called HSIS that was developed by Bookeen.
The first video I posted a couple of weeks ago showing the Cybook Odyssey in action didn't demonstrate very much in regards to the speed of the device.
This first video below shows how impressive the speed actually is with an animated boot sequence. What's most impressive about the animation is that it runs smoothly without any trails or general funkiness. The Nook Touch is surprisingly fast with animation too, but the screen refresh can't keep up, resulting in psychedelic craziness.
The other videos show some scrolling, and that looks pretty nifty too. It moves relatively smoothly and doesn't have excessive black flashing.
I wish Bookeen would have uploaded a video showing the web browser. The Sony PRS-T1's web browser is surprisingly fast; I wonder if the Cybook Odyssey can match it.
Animation Boot Sequence of Bookeen Cybook Odyssey
Graphical User Interface on Bookeen Cybook Odyssey
Dictionary Interface on Bookeen Cybook Odyssey
Multi-Touch Interface on Bookeen Cybook Odyssey