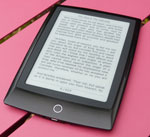 Below is a video of Bookeen's new Cybook Odyssey ebook reader that just went up for pre-order last week in Europe.
The Cybook Odyssey is the first ereader to use what Bookeen calls HSIS, or high speed ink system technology. That's fancy talk for fast.
I don't know… It doesn't really look that fast to me. The Sony PRS-T1's web browser scrolls just as quick, and judging from the time it takes ebooks to load and selections to react, the Nook Touch looks like its title as the world's fastest ereader is safe. What do you think?
Cybook Odyssey Revealed