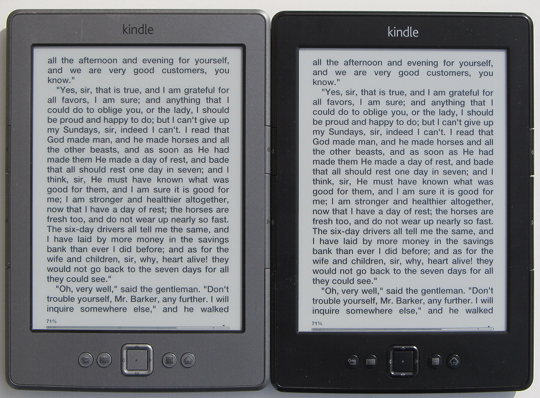 Yesterday I noticed something odd over at Amazon while researching the sales and deals post.
For some reason Amazon has started promoting last year's basic Kindle over this year's version. Last year's model has a gray exterior (they call it graphite) and the newer one is black (onyx).
The family stripe at the top of Kindle device pages now shows the gray model instead of the black one, and whenever you click on any link for the newer model it automatically defaults to the gray Kindle from last year.
Both Kindles are pretty much exactly alike except for the color, so it's not a huge deal, but there is one important difference aside from that you should be aware of before buying.
The screen on the newer black model is slightly better than the one on the gray model. The background color is a little whiter on the new model.
This difference in the screens may just be because I'm comparing a new Kindle with a gray one purchased last year. Perhaps the gray units have better screens now too, or maybe Amazon is trying to clear their remaining stock of the gray ones. It's hard to tell. They may be running out of the newer ones like they are with the Kindle Paperwhite, which is on backorder until December 17th.
Personally, I think the gray Kindles look a little classier, but based on my side-by-side comparison I'd go with the black one for the whiter screen and slightly darker text.