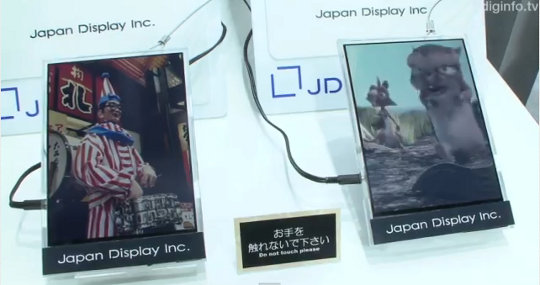 While we are all waiting on color E Ink to mature enough to become a viable option for color ebook readers, Japan Display is taking a different yet similar approach with low-power LCD displays.
Japan Display Inc., a joint venture between Sony, Hitachi, and Toshiba's liquid crystal display businesses, has two new reflective LCD displays that are similar to E Ink technology by the fact they don't have backlights, instead relying on ambient light to reflect the display, and like color E Ink they use a monochrome display with a color filter on top.
Japan Display has developed two different types of these low-power color displays. The first has a reflection rate of 40%, with 5% coverage of the NTSC color gamut. The second has better color saturation with 36% coverage of the NTSC color gamut, but it has a lower reflectivity rate at 28%, which makes colors appear dimmer.
Both screens have a contrast ratio of 30:1, which is impressive. By comparison both color and monochrome E Ink screens have a contrast ratio if 10:1.
Another advantage over E Ink is that these new LCD displays can display video because refresh rates are higher.
It remains to be seen if they can achieve anywhere near the energy efficiency of E Ink, however. But they do have a feature called Memory in Pixels that, like E Ink, once an image is displayed on-screen it uses little to no power to retain that image.
According to Japan Display, the screen with lower color is ready to start being mass-produced if customers want them. The one with higher color still has some technical issues to be worked out. It will be interesting to see what companies use these screens moving forward, and how they use them.
Here's a look at the two new screens in action.
Japan Display's Paper-like Low-power Color LCD Screens