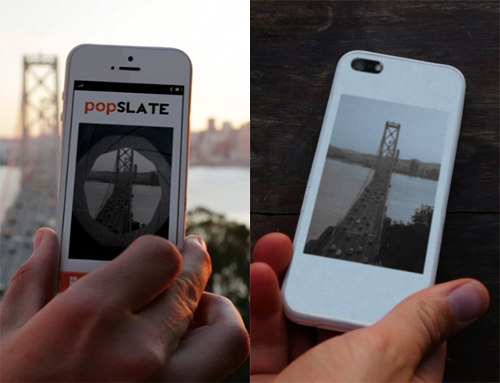 One way or another E Ink is going make its way onto smartphones. A couple of months back Onyx International showed off an Android-powered phone with an E Ink screen, and the company E Ink themselves demonstrated a prototype of a dual-sided Android phone with an LCD screen on one side and an E Ink screen on the other side.
Now enters popSlate, a case for the iPhone 5 that has a 4″ E Ink screen built into it.
With popSlate you can "Pop" images onto the back of an iPhone using the popSlate app, including photos, iPhone screenshots, web images, and it works with photo sharing platforms like Instagram. You can set the images up to remain static or set up a slideshow.
PopSlate can also be used as a mini ereader to display text, including notifications, sports scores, maps, notes, calendars, etc. It will also have an open API for developers.
The popSlate case connects through the iPhone's lightning connector to get power to refresh the screen, to send data back and forth, and to use the iPhone's accelerometer to detect taps on the E Ink screen because the popSlate case has no sensors of its own.
The fact that it lacks any sensors means its usefulness is going to be very limited, however, because you can basically change the screen and nothing else; you aren't going to be able to interact with the screen to use an app like on the LCD screen.
But E Ink does have its benefits since E Ink screens require no power to maintain an image on the screen, and they are a lot more readable in bright light than LCD screens.
And for those of you worried about the E Ink screen breaking, popSlate is supposedly using a "nearly indestructible" E Ink screen.
PopSlate is still in the early stages and isn't in production yet. Right now the makers are trying to raise funding through IndieGoGo. The goal is $150,000. There's little doubt they are going to achieve that. They've already raised over $126,000 in about a week. At this rate they'll hit their goal by the end of this week.
PopSlate Video Demo