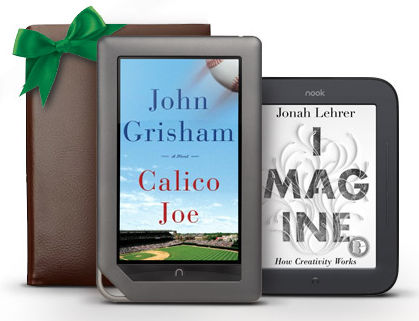 Barnes and Noble has decided to shave $20 off the price of the Nook Simple Touch as of tomorrow, December 9th, dropping the total expenditure down to just $79 plus tax. And it's not a sale; the price is staying at $79.
That's a pretty good price considering it sold for almost double that ($139) when it was first released one and a half years ago.
It also puts more pressure on the competition because now the Nook Touch is the same price as the Kobo Mini, which has a smaller 5-inch screen and no memory card slot.
B&N is even beating Amazon on price now. The basic Kindle is $69, but that includes advertisements for that price; the non-ad version is $89. Not only that but the Nook adds a touchscreen and a memory card slot, both lacking on the basic Kindle.
B&N has apparently decided to leave the price of the GlowLight Nook Touch at $119 because there is no mention of it in the press release. That's not surprising since it already received a $20 price drop back in October.
I wonder if the price drop is a sign that B&N is looking to clear out the remaining stock of the Nook Touch in order to release a successor in early 2013. A Nook Touch HD would go along nicely with B&N's new HD tablets…
Other Nook Deals
Through December 13th, Frys has the Nook HD on sale for $179 in stores. That's $20 less than normal.
Frys also has certified pre-owned GlowLight Nook Touches for $99. That's $20 less than new.
Refurbished Nook Tablets can be had from B&N.com and eBay for $149 (16GB) and $129 (8GB).