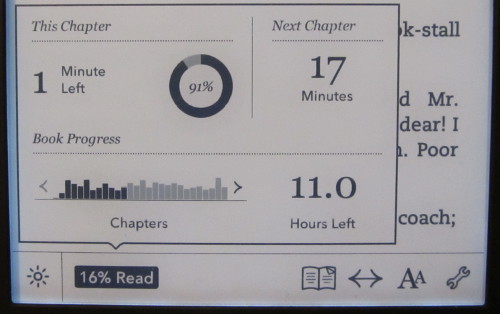 I turned on my Kobo Glo yesterday and it informed me there was a new firmware update available so of course I went ahead and installed it.
The biggest change that I've noticed so far with the new 2.3.1 firmware is that Kobo added a nifty reading stats menu that's accessible from within Kobo ebooks (it doesn't seem to work with sideloaded ebooks). Previously the reading stats were accessible from the homescreen and weren't very useful.
Now it's pretty much exactly like the reading progress feature on the Kindle Paperwhite. Except the presentation is better. With the Kindle it tells you at the bottom left of the screen how much time it will take you to read the rest of the chapter or the entire book based on analyzing your reading speed.
With the Kobo there's a window that pops up from the menu bar that tells you how much time it will take to finish the current chapter, the next chapter, and the rest of the book. There's also a graph that shows the relative length of chapters and a percentage indicator for the chapter.
Personally I really like the new reading stats feature. It gives me an idea of how long it's going to take to read a chapter and gives an estimate of how long it's going to take to finish the entire book, which is strangely motivating somehow. Seeing it as 11 hours to finish the book makes it seem like that's not so bad and it feels a little more achievable.
The new 2.3 update applies to the Kobo Mini and Kobo Touch in addition to the Kobo Glo. There are some other new features with the 2.3 firmware as well. Here are the release notes:
1. Check your reading stats while you read
2. Enjoy improved title displays
3. Sync your Library to a micro SD card if your device is full
4. Learn how to add a book directly from Help menu
5. Experience our updated home screen
6. Benefit from multiple bug fixes
Unfortunately a bunch of folks are reporting serious issues with the 2.3.1 update over at Mobileread. So far I haven't experienced any problems but just started using it yesterday. Kobo has apparently already released 2.3.2 firmware to hopefully address some of the bugs, but I haven't gotten that one yet.
If you haven't gotten the update on your Kobo yet and want to try it out, just hit the sync button from the settings menu.