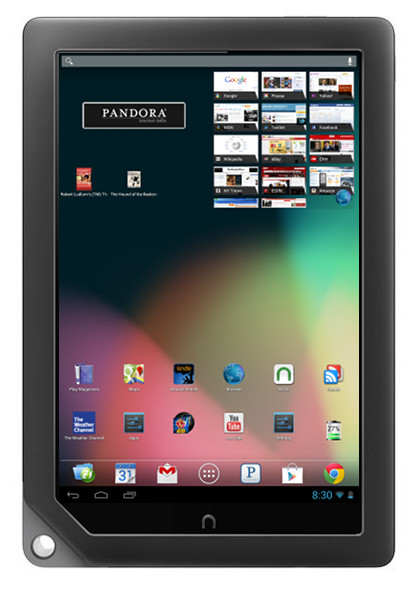 Overview
N2A cards have been around since the Nook Color first made locked-down Android tablets popular. I've reviewed N2A cards for both the Nook Color and Nook Tablet. When I heard there was an N2A card with CM10 (Android 4.1 Jelly Bean) for the Nook HD+, I was eager to test it out, and the folks at N2A cards were nice enough to give me a copy, along with a 15% off discount code for you to use. For those of you wondering, they are planning on releasing an N2A card for the Nook HD as well.
If you are unfamiliar with N2A cards, basically what they are is an alternate operating system that runs entirely off a memory card. All you have to do is place the N2A card into the Nook's microSD card slot and it will automatically boot from the memory card instead of the stock operating system. This turns the Nook into an open Android tablet with a lot more features and access to hundreds of thousands more apps, opposed to the closed-down custom operating system it ships with.
Nook HD+ N2A Card Review
As I mentioned in the Nook HD+ review, I'm quite fond of the device's form factor and especially the high resolution screen, just not the fact that there are so few apps available from B&N's appstore, especially free apps.
With an N2A card that problem is solved since it provides access to the Google Play appstore, and alternate appstores too. I had no problem installing and running pretty much any apps I wanted. The only app I tried that I couldn't get to work properly was Riptide GP. It looks great but steering isn't sensitive enough for some reason, even after adjusting sensitivity in settings. Other steering games worked fine, however, so it doesn't appear to be a big issue.
Videos play well both on YouTube and Netflix, even in HD. The interface runs a bit wonky with Netflix, but that's nothing new. In landscape mode scrolling lags and twitches, but oddly enough in portrait mode it works totally fine.
The little "n" button on the Nook HD+ directs to the homescreen when pressed. And it also brings up the recent apps list if you hold the button down.
I installed some games to test the speed and processing power, and the Nook HD+ had no problem whatsoever playing games like Dead Trigger and Angry Birds Star Wars. The graphics look spectacular and there's no lag at all.
The quadrant score for the Nook HD+ with the N2A card clocked in at 2709, which is pretty good. That's higher than the Samsung Galaxy Tab 10.1.
Battery life doesn't seem to be quite as good as the 10+ hours when running the stock OS, but it is still really good. I've been getting a solid 8 hours or more. I noticed that it drains very little battery in sleep mode, which is always a good sign.
One of the great things about having an open operating system is that you can install any ereading apps that you want, including Kindle, Aldiko, Google Books, Kobo, and pretty much anything else out there.
You don't have access to the built-in reading app for the Nook HD+ when using an N2A card, but you can install the Nook Android app, or you can simply remove the card to boot the stock operating system. The Nook Android app doesn't look as nice and doesn't have quite all the features as the built-in app for the Nook HD+, but it works just the same for reading ebooks and magazines from Barnes and Noble.
I installed Google Chrome for web browsing and it works great. I really like the Nook HD+ for web browsing because the screen is so high res that even the smallest text is super clear and easy to read—you almost never need to zoom in.
Pros
Android 4.1 Jelly Bean with access to Google Play.
Access to Google apps and hundreds of thousands of other Android apps.
Aside from a few bugs, it runs surprisingly smooth and is quite fast and responsive.
Simply take out the N2A card and you're back to 100% stock; it's like having two Nooks in one and it doesn't void the warranty.
Cons
Bluetooth won't connect.
There's a volume adjusting bug that requires you to either pause and un-pause media or go to the homescreen and back to the app.
Screen rotation is slow at times.
Doesn't always automatically connect to Wi-Fi; I often have to turn my router off and then back on again to get it to connect.
Update: This review was written after the initial release of N2A for the Nook HD+. I installed a newer version and that fixed the volume adjusting bug, screen rotation is now smoother, and Wi-Fi seems better, but for some reason I still cannot get my Bluetooth headphones to connect.
Verdict
There's no question that running an N2A card with Android 4.1 is a big step up from the stock operating system on the Nook HD+. It adds a lot more functionality and basically turns it into a completely different tablet. This N2A card for CM10 (Android 4.1) has a few bugs and isn't as polished as the N2A cards for CM7 that I tested on the Nook Color and Nook Tablet, however. Because of that I can't recommend spending a bunch money on this particular N2A card until it gets updated.
They do offer a download option that is much cheaper at $17 with a discount code. At that price it's worth it bugs and all, but you're going to need your own microSD card. Sandisk seems to be the best for these cards. And like always, N2A cards are built off an open source project. If you are familiar with the process you can build your own CM10 card for free by following these directions at XDA.
Price: $17 – $90 at N2A Cards (use code theebookreader for 15% off)
Nook HD+ Android 4.1 Jelly Bean N2A Card Video Review