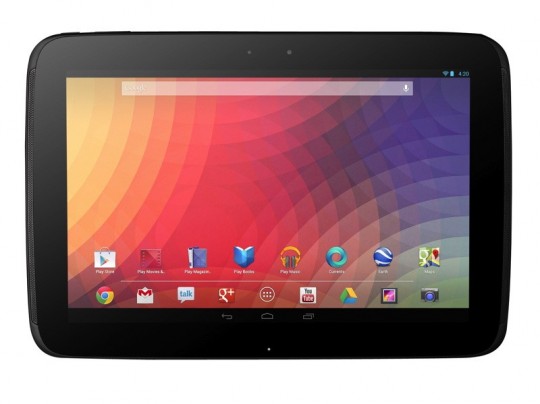 If you have been waiting to burn your holiday bonus on a new Google Nexus 10 tablet, with no indication as to when the device would be back in stock, fear no more. I just checked the 10-inch tablet's product listing on Google Play, and, according to it, resupply units will be shipping out "in less than one week."
The Nexus 10 went out of stock sometime after Black Friday with future availability being unknown since then, much to the displeasure of potential Android customers. The weeks between Thanksgiving and New Year's are notoriously important for online retailers, so not having their flagship hardware in stock during the peak shopping period of the year must have been seriously distressing to Google's supply chain managers.
Back in December, uproar over the company's beleaguered Nexus 4 smartphone release in the UK prompted Dan Cobley, Google's managing director there, to issue a penitent apology on his Google+ account:
I know that what you are going through is unacceptable and we are all working through the nights and weekends to resolve this issue. Supplies from the manufacturer are scarce, and our communication has been flawed. I can offer an unreserved apology for our service and communication failures in this process.
Customers were offered shipping fee refunds, but no potential restocking date could be provided at the time. The Nexus 4 is still currently listed on Google Play as being indefinitely out of stock.
When I first heard about these Nexus shortages, I opined that Google's greenishness in hardware retail was probably to blame. They don't have the years of experience that other, more practiced device makers have worked hard to gain. Google does have ASUS and Samsung to lean on, but I can only imagine the numerous and galling complications that arise when adding a large-scale online retail service to your company. The returns, the complaints, the failures, ect. Amazon had similar supply chain issues when they first tested the waters of the hardware business, and even after five years, they still couldn't keep the Kindle Paperwhite in stock for most of the past two months.
Kobo has completely stopped selling their eReaders and and tablets from their website altogether, and they didn't bother to announce this publicly. This caused a rash of confusion when the Kobo Glo came out and customers went to Kobo.com expecting to buy the new reader, only to be redirected to a confusing network of online retailers, none of which had the Glo in stock for weeks. Independent booksellers that did have the Kobo Glo on hand weren't even listed on the Glo's 'where to buy' page. I guess selling tablets from a website isn't as easy as Amazon or Apple makes it seem.
Now that the Nexus 10 is scheduled to return (both the 16 GB and 32 GB models are back on sale), I would really recommend placing a pre-order right now. There will probably be another rush on the tablets, especially the 16 GB Nexus 7 (which is also out of stock) and the 16 GB Nexus 10. They are priced at $199 and $399 respectively.
After cycling through about five different tablets in 2012, the Nexus 10 has finally been the one to win me over. You can read my review of it here. There is a reason why these devices have sold out so quickly, and it isn't all just OS loyalty. The Nexus 10 ships with the most advanced version of Android, Jelly Bean 4.2, and it has an amazing 2560 x 1600 'retina' display. For eReading and web surfing on a tablet, it just doesn't get better than this. It is also the first 10-inch Android tablet I have used that feels comfortable to operate in both portrait and landscape modes.