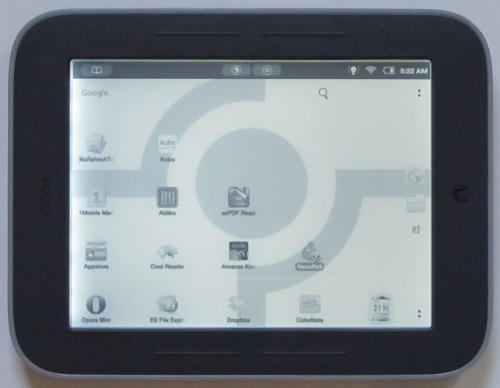 I noticed over at XDA this morning that the GlowNooter rooting package for the GlowLight Nook Touch was updated last week to work with the new 1.2.x firmware update that Barnes and Noble issued back in November.
Ever since the 1.2 firmware update, GlowNooter would freeze up and not complete the rooting process. This is fairly typical when it comes to firmware updates and rooting so it's no big surprise.
Luckily the developer for the project, Gabrial Destruir, went ahead and took the time to update the rooting package for anyone who gets a GlowLight Nook Touch after the 1.2 update.
However, the rooting package for the regular Nook Touch, called TouchNooter, has not yet been updated for the 1.2 firmware. I'm not sure if it still needs testing or what. You can keep an eye on the TouchNooter thread at XDA. Gabrial notes that the GlowNooter fix may work on the regular Nook Touch too. The fix just uses a patched framework.jar file from the latest 1.2 update.
Development for the E Ink Nooks has really dropped off over the past six months but it's good to see that fixes are still coming along when B&N unwittingly breaks things.
Check out my step-by-step directions for rooting the Nook Glow using GlowNooter if you want to try out the new updated rooting package.