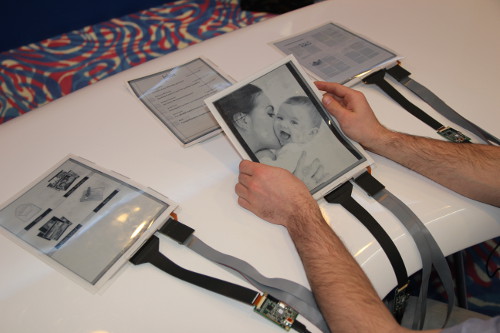 Every year at the Consumer Electronics Show in Las Vegas companies show off their latest and greatest gadgets. But over the past couple of years the number of cool gadgets at CES has really taken a nosedive, and this year I think things have hit a new low.
No revolutionary ereaders or tablets were shown off. E Ink is still demoing the exact same products from the past 5 conferences; there wasn't a single thing we haven't seen before. But one of the worst of all was something called the PaperTab, which is supposed to be a paper-like tablet (in theory anyway).
The idea of a tablet with an electronic paper display is an intriguing one given the energy-efficiency and outdoor readability of epaper displays, but the PaperTab is so far off base that if it were posted at the start of April I would've thought it was a joke.
I'm trying not to be so critical because I know that it's just a prototype put together by the Human Media Lab at Queen's University, but after seeing the video below it's just so ridiculous that I can't take it seriously. This product is never going to reach the market in any shape of form unless they make some drastic changes to the overall concept.
One of the craziest things of all is that it is supposedly running on an Intel Core i5 processor. If so, they must be using a 0.02 GHz version because the PaperTab is slower than my hacked Nook Touch.
And then there's the fact the PaperTab needs a different screen for each "app":
"Instead of using several apps or windows on a single display, users have ten or more interactive displays or PaperTabs: one per app in use," explains Ryan Brotman, a research scientist at Intel.
So you're going to need to buy several expensive epaper screens. That idea is sure to catch on with consumers. Oh, and there's some real pretty wires connected to each one too so it's highly unportable. And to top it off there's a nice glossy reflective screen.
The bending of the PaperTab to turn pages and interact with the screen may sound cool at first. But just think about the usability of that for a second. Having to continually reach to bend the screen would get seriously annoying after awhile.
The PaperTab uses a 10.7″ epaper screen developed by Plastic Logic. That was the first mistake. Anything with the Plastic Logic name on it is doomed to fail. After 12+ years of blundering along in the electronic paper field, you'd think Plastic Logic would have run out of money by now considering that they haven't yet released a single product to the mass market.
Think I'm being too harsh? Take a look at this video and then tell me you'd spend what is in all likelihood several hundred dollars to buy this Frankenstein of a contraption. It's like the epaper industry is going backwards instead of forwards.
The PaperTap: Are You Kidding Me?