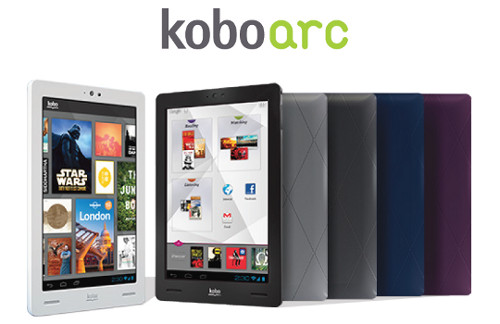 The Kobo Arc was first announced back in early September, and then was initially released toward the end of November in Canada, France, and the United Kingdom.
Now three months later it's finally starting to become available in the United States from Indie stores like Powell's Books. I've seen it listed on a few other places like Amazon.com and eBay, but at well above suggested retail price so those don't really count.
The Kobo Arc is more of a reading-centric tablet than some of the other options out there. Unlike Amazon and Barnes and Noble, Kobo doesn't confine you to just their store so you can download any ereading apps you want to from Google's appstore, among countless other apps.
That's one of the best things about the Kobo Arc and is what separates it from the likes of the Kindle Fire HD and Nook HD is the fact that it's a fully open tablet that runs Android 4.0 and comes with access to the Google Play Store for music, movies, games, ebooks, and apps.
The Kobo Arc has a 7" 1280 x 800 resolution IPS screen and is powered by a 1.5GHz dual-core processor. Other notable specs include a 1.3 megapixel forward-facing camera, two front stereo speakers, and up to 10 hours of battery life. It has 1GB of RAM and there are three options for storage space: 16GB, 32GB, and 64GB. The price starts at $199 and goes up to $299.
The Kobo Arc comes with a number of pre-loaded apps, including Facebook, Twitter, Skype, 7Digital and Rdio for music, Zinio and PressReader for magazines and newspapers. It even comes with the following Google apps: Google Play, Gmail, YouTube, Google Maps, StreetView, Calendar, Contacts, Google+, and Google Chat.
The Kobo Arc is a good tablet for the price, but unfortunately for Kobo there's also a tablet called the Google Nexus 7 on the market. The Nexus 7 costs the same price and has a newer operating system and a faster quad-core processor. In fact the Kobo Arc really has no advantage over the Nexus 7 other than Kobo's custom tweaks to the software—mainly "Tapestries" on the homescreen to organize your content thematically and to view recommended ebooks, videos, music, websites, and more based on the content "pinned" to your Tapestry.
Kobo's ereading software also includes their social reading aspects with "Reading Life" and "Kobo Pulse" that allow you to earn awards and track reading stats and share on Facebook and Twitter.
I don't plan on reviewing the Kobo Arc so here's a video review from YouTube for a closer look:
Kobo Arc Review