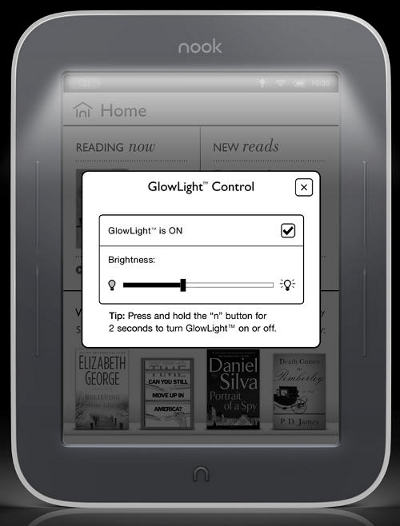 Unlike most companies that like to release new ereaders in the fall before the busy holiday shopping season, Barnes and Noble tends to release new E Ink Nooks in the spring. In fact the GlowLight Nook Touch was officially announced exactly one year and one week ago from tomorrow.
But unlike last year, there are no rumors going around about B&N releasing a new Nook anytime soon. Could it be that Barnes and Noble decided not to release a new Nook this year? After all, B&N's Nook business is not doing very well, and hardware sales are especially low. Maybe they decided not to release an updated model this year since it's not selling very well anyway. Or maybe they are going to wait until later in the year so the new model isn't outdated by the time Christmas comes along, as was the problem last year.
Whatever Barnes and Noble's plans are, the GlowLight Nook Touch is in dire need of an upgrade. First off, it needs to get the newer higher definition screens that are being used on the Kobo Glo and Kindle Paperwhite. The lighting system also needs to be improved because it is noticeably inferior to the Kindle and Kobo's frontlights.
Another issue that B&N needs to tackle, and this goes back to the HD screen and frontlight, is the fact that the GlowLight Nook Touch's contrast isn't as good as the original Nook Touch—text is noticeably greyer on the GlowLight version and that was one of the biggest complaints from customers a year ago.
On the positive side, B&N can build off of the things that make the Nook Touch more desirable than the Kindle and Kobo ereaders. Like the Android operating system and the physical page turning buttons (most touchscreen ereaders forgo the page buttons but I really like them on the Nook).
The underlying Android operating system has always been a hidden gem on Nook ereaders. B&N should learn to take more advantage of this and add some new software features. Like adding a web browser to make web reading an option. They could add things like a note app, a calculator, calendar, games, and integrate more social reading features to really separate the Nook from the competition.
Normally I'd be 100% confident that B&N would release a new Nook. But this year after all their financial woes and severely lacking hardware sales have come to light, it's hard to tell what they are going to do moving forward.
What do you think? Is B&N going to release a new GlowLight Nook Touch soon?