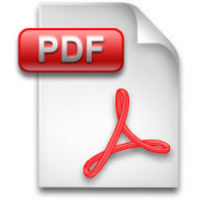 I frequently get asked questions about which ebook readers are best for reading PDFs, and I've already written about what I think are the best ereaders for PDF reading, along with a list of the best PDF Reader apps for Android, but I thought it would be fun to rank some of the more prominent ebook readers in a list of the best and worst PDF readers.
I'll admit that I'm not the biggest fan of PDFs. In fact I avoid them whenever possible. So feel free to disagree with this list, and provide your own thoughts in the comments section at the bottom of this post.
1. Onyx Boox – Onyx gets the top spot with the combination of PDF-friendly software features and large 9.7″ ebook readers like the Onyx M96 and Icaurs Excel (M92). Onyx's software packs ample zooming options for PDFs, and supports folder navigation, on-screen handwritten notes, text-to-speech, text reflow, and more. And now the Boox M96 even comes with open Android 4.0 and can install apps. I still think a tablet is a better overall value and a more versatile PDF reader, but as far as E Ink ebook readers go, Onyx Boox has an edge over its competition.
2. PocketBook – Pocketbook's software is very similar to Onyx's from a PDF standpoint in that it offers a lot of features, and they provide a couple of additional zooming options for multi-column PDFs, but Pocketbook's hardware is outdated. Their best option for PDFs is their large 9.7″ ebook readers, but they were released way back in 2010. The newer models have smaller screens, which are far from ideal for PDFs.
3. Sony Readers – As far as smaller mainstream ebook readers go, Sony Readers have the most amount of features to offer when it comes to PDF reading. There are plenty of zooming and cropping options, including pinch-zooming, there's support for on-screen handwritten notes, highlights, contrast adjustment, text reflow, and more. If Sony ever came out with a large-screen ebook reader and tuned PDF performance a little more it would probably be fairly popular with PDF aficionados.
4. Kindle – The Kindle Paperwhite and basic Kindle are surprisingly not horrible when it comes to reading PDFs. The small screen size is the biggest limiting factor, and Amazon stopped making the 9.7″ Kindle DX, although you can still get one. The smaller Kindles at least have a fair amount of features for PDFs compared to ereaders further down on this list, including notes and highlights, dictionary support, translations, Wikipedia look-up, there's a handy contrast darkening feature, and a fair amount of zooming options.
5. Kobo eReaders – All of Kobo's ebook readers have a disappointing amount of PDF features, making them among the worst PDF readers on the market. There's no notes, highlights, dictionary look-up, no reflow, no pinch-zooming, and few zooming settings. You can runs searches and use the table of contents to navigate. There's a zoom dial and some fit to width and height presets, along with landscape mode, but nothing advanced.
6. Nook – The Nook Touch and GlowLight Nook are the worst PDF readers out of the box. There aren't any zooming options, no highlights, notes, dictionary, or landscape mode. The only PDF features the Nooks offer is reflow, table of contents, bookmarks, and search. However, Nooks can be hacked to install Android PDF apps, which improves functionality quite a bit, but not enough to jump above Sony in the #3 spot as far as 6-inch readers are concerned.