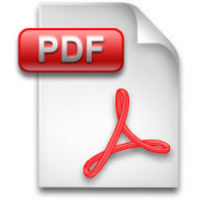 One of the most common questions I get asked is which is the best ebook reader for viewing PDF files, the Kindle, Sony, Nook, which one?
The sad truth of the matter is that no 6-inch ereader is really all that great for displaying PDF files. What it comes down to is the 6-inch screen is just too small.
Sure, the Kindle, the Sony Readers, and PocketBook ereaders all do a serviceable job with PDF files, but if you really want a hard-core PDF reader, then there's only one option: a tablet, either the Apple iPad or any number of Android tablets will do, the bigger the screen the better.
Yes, it's true. The iPad and Android Tablets, especially 10″ tablets like the Motorola XOOM and ASUS Transformer, are by far the best PDF ereaders currently on the market. The size of the screen, color, zoom, hyperlinks, notes, highlighting—and there are a number of quality PDF apps for both platforms.
But what if you don't want to spend that kind of money or don't want to have a backlit screen? What's the best e ink ebook reader for PDF files?
Mainly do to a lack of options, the Kindle DX with its large 9.7″ screen is one of the better E Ink ebook reader for viewing PDF files. The Kindle DX does a really good job of displaying PDFs, but it lacks hyperlink support, dictionary and note-taking support, and other interacting features, which doesn't make any sense because the Kindle 3 has all those features.
There are other large-screen E Ink ebook readers too that offer more features than the Kindle DX. PocketBook has a couple of 9.7″ models. The software grants the user a lot of options, but PocketBook is still using older Vizplex screens instead of newer Pearl screens with higher contrast.
Onyx Boox also has some 9.7″ ereaders with much more advanced software than the Kindle DX, and they even use Pearl screens. They are also sold under the brand Icarus Excel.
These are all good PDF ereaders, but they aren't for everyone. The price of 9.7″ ereaders is as high as some really nice 10″ tablets that are much more versatile and capable. In most cases you're better off getting a tablet instead, unless you are working with PDFs everyday and have trouble with eyestrain when using LCD displays.
As far as small ereaders go, the Kindle, Sony Readers, and PocketBook ereaders are the best for viewing PDF files, along with a rooted Nook Touch. All have various levels of zoom, landscape mode, notes, etc. The Kindle is the only one that doesn't have reflow, but you can have Amazon convert PDFs to AZW for free and that is essentially reflow.
It's a tough call between those because each has different positives and minuses. The Kindle doesn't have as many features as the others do, but it is serviceable and it has a text darken feature that works fantastic for PDFs with light-colored text.
The Sony Readers have a custom zoom dial and plenty of different PDF viewing options, the touchscreen makes it easy, and they have on-screen markup.
So what it comes down to is this: if you want really, really good PDF support go with the iPad or an Android tablet. If you want something that is serviceable, something that can display PDF files decent enough now and then, but not solely for PDFs, then go with a Sony Reader, Kindle, rooted Nook, or PocketBook ereader. If you really want a large E Ink PDF reader, the best advice would be to go with the Onyx Boox M92/Icarus Excel, the Kindle DX for basic use, or the PocketBook 902/903, but they are going to cost about as much as a decent tablet.