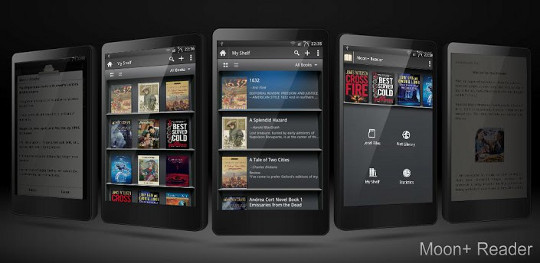 There's a special edition of the popular ereading app for Android called Moon+ Reader Pro that is available for free today only thanks to a promotion over at AppGratis, which gives away free paid apps everyday.
Normally Moon+ Reader Pro sells for $4.99, so this is a good time to get it even if you're not sure you really want it. It works with Android tablets and phones that run Android 2.2 and up.
Here's the link for the download from Google Play:
I highly recommend downloading this app. It's been a long time since I tested the free version of Moon+ Reader, and I've never tried the Pro version before. After thoroughly testing it out this morning I can say that Moon+ Reader Pro is a very nice reading app that is loaded with features and customization options.
It supports ePub, PDF, Mobi, chm, cbr, cbz, umd, fb2, txt, html, rar, zip, and OPDS formats. The only real nag is that there's no support for any DRM ebooks; that's the main reason I never gave Moon+ Reader Pro much of a look before, but that's not a big deal if you don't mind removing DRM from ebooks.
I tested some ePubs and Moon+ Reader displays them fantastically. What I like is there are tons of display options. There's all the typical font adjusting options—size, font type, line spacing, margins—along with advanced features like being able to choose to have spaces between paragraphs or indented paragraphs, you can disable CSS styles, turn on and off hyphenation. There are several themes, and you can customize background color/style and font color.
There's also a reading time estimator, there are various page turn animation choices, two page landscape mode, it supports text-to-speech, there are notes, highlights, bookmarks, and it can even sync with Dropbox. What I also like is the app overrides a device's minimum brightness levels to go even lower than usually is possible for comfortable night reading.
If you're late to read this post and miss out on this free copy of the Pro version, you can always test this free version of Moon+ Reader before buying the full version.